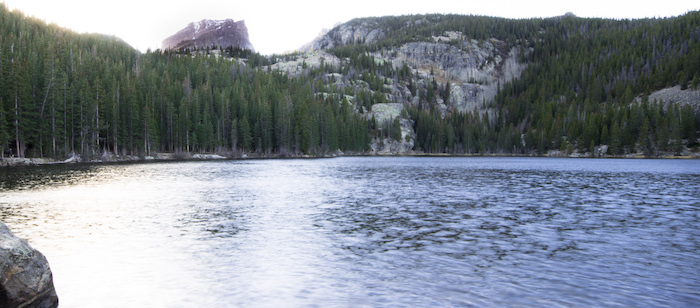 The beautiful Bear Lake in Colorado. The Rocky Mountain National Park area, with it's litany of mountainous views, is full of opportunities to soak up rich scenery. Given that this location sits at an elevation of 9,450 feet, you have to do everything slower. It was a cold day in this shot too, but also clear enough for shooting this scene at the tip of a nature path that stretched around the entire lake. 
My intention here was to take a longer exposure and make the water look silky. Since the light was strong, my .8 second exposure overexposed the sky and I didn't have the benefit of an ND filter (still learning). I might have been able to correct this if I had bracketed the photos, but I didn't on the day. Setting up the tripod in this cold was no fun either, but it was worthwhile to get the shot. This shot is best viewed in the highest resolution possible. Click here for that.
For inquiries about printing this or any of my photographs, please email photos@cwl.cc.
Photo Details:
Full Dimensions: 6727 x 4490
Camera: Sony ILCE-7R
Shutter: 0.8 seconds
ISO: 100