Contest: Win A Free Hard Disk Drive!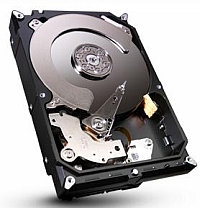 We love contests. Really, who doesn't like free stuff? At CWL we're partial to giving away free tech gear. In 2010, we gave away a Netbook and in 2011, we gave away a Sony eReader. This year, with Hard Drives recently being seriously short supply and rapidly increasing in price – we thought we'd give away a new drive! Read on for more info about this great contest!
As always, the lucky winner will be notified by email and then shipped the drive (free of charge). Some restrictions apply, but you get the idea. Winning free stuff a whole lot better than paying for it!
Update: This contest has now closed. We thank everyone for the entries!
What we're giving away is a Seagate Barracuda re-certified hard disk drive. Some details about this drive include:
Model Number: ST3500418AS
Part Number:  9SL142-30
Form Factor:  3.5″ (Desktop)
Size: 500GB
Interface: SATA  3Gb/s
RPM: 7200
Cache:  16mb
Seagate's own site explains the drive as:
"The Seagate® Barracuda® 7200.12 hard drive combines proven technology and components with industry-leading manufacturing expertise to deliver up to 1 TB of sustainable desktop storage with 32-MB cache."
This drive is great for use an a NAS device or paired with an external enclosure for a backup device or location you store important files. If you're after more details on the drive, check out Seagate's site here.
The drive is sealed in anti-static packaging from the manufacturer and will be shipped with protective precautions taken to ensure it gets to you safely.
How To Enter
To enter this great contest we require one of these three simple things:
1. Follow us on new Google+ Page and share a post
2. Become a fan of our Facebook Page and post a message
3. Follow us on Twitter @cwl_cc and send a tweet
Remember to follow or like the respective pages and make your postings or tweets creative. It counts! Tell us why you read the blog, tell us what you'd like to see covered in future blogs. Tell us why YOU deserve to win.
The deadline for entries will be February 17th, 2012 with shipping of the product happening soon afterwards.  We will announce the winner on this blog. Good Luck!
Head over to Twitter and/or Facebook and enter right now!
The Fine Print
– You have to be in a shippable location in US or Canada. If you aren't, I'm sorry your entry will be voided.
– The winner will be chosen by way of Twitter Reply/Quote or Facebook Posting. If you are chosen, you will be contacted for further details. If no response is received after a 24 hour wait, another winner will be chosen.
– The winning product may not be in new condition, you agree to accept it as is regardless of the condition
– The winning product will be shipped no later than March 17, 2012
– If you are the winner, you agree to let me tell everyone who you are and share publicly available pictures
– You cannot win if you work for or are a family member of a Calwell Inc employee
Good luck to everyone, let us know what you'd like to see us give away next time!