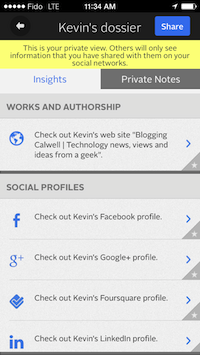 This week, a number of contextual horizons have been opened for me. First, I was given the chance to read (and review) a pre-release version of Robert Scoble's book, Age of Context. I'm reading it rather slowly, but I will get there. Along the way, a column on I, Cringly introduced me to Refresh, a simple contextual iOS application that gathers information on contacts from multiple sources based on information it finds in your calendar. Context is really starting to pick up in applications, and I expect we'll hear much more about this idea in the coming months and years.
Refresh is a great idea; it uses the information you have available (social media accounts, contacts, connections) and other data that may be freely available on the Internet to build what they call a "Dossier" on a person. Refresh can provide quite a few details from pictures, to the very personal details hidden in less obvious social media posts. What results is probably the most complete look at a person you can get without actually meeting them [1].
And, context may be a buzzword, but if you're a programmer or application designer, context is hard. Imagine a simple relative test to figure out how many people in your immediate area prefer Heinz ketchup over that of a no-name brand. To get this kind of relevant data, you would have to have the opt-in of a large enough sample, or be able to pry the details out of a database somewhere. If you don't have enough people or data involved, there is no context. That's not even necessarily useful information [2].