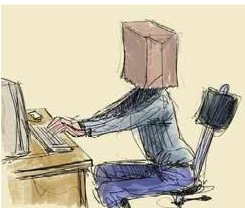 "Good night, and good luck." – Edward R. Murrow
That was the catchphrase of a great broadcaster. With that, Murrow became a legend and, I suspect, inspired a generation. Generations of journalists and bloggers are converging on something entirely new. This story is about how journalism has changed, how it is today something different. This is the story about how something I have resisted has come full circle and inhabited a part of my own life in ways I never thought possible. It's also important to say, I'm no expert in journalism – my perspective is a unique one though. I grew up in the radio newsroom and I learned of journalists from the inside. Also, I am part of that "new" technology blogger-ati that cow-tows to no editorialist, that plays fast and loose with the truth, and is shifting what we see in news for better or worse. What we're seeing here is, I think, a seismic shift in how things work.
That generation Murrow inspired likely included none other than my own father, Gene Costain. He spent much of his work-life as a radio newscaster for radio stations such as CKO in Toronto. I wish I had been paying more attention to what was going on around me too, but I generally had a distaste for this environment of reporters. My exposure to these newsrooms was fairly extensive as I would often tag along with him while his did his broadcast. Many of my memories of his times on-air in those small padded booths with microphones involved him reading word-for-word from AP wire papers or text copy that was ever so slightly altered from what the wire said. Today, I'm able to bring my view of past journalism and look at it through the eyes of today's bloggers.