A Look at the New Ubertwitter Beta-6
I just heard about this – a newer version of Ubertwitter that supports Lists and more features? if you haven't seen it or heard about it – you'll want to download this version with your blackberry (Over-The-Air) right here (Note: this link is now dead).
I thought I'd give you a look at some of the improvements and changes in this version with a few screen shots. Please keep in mind this application is in Beta, so treat it as such.
Update: Ubertwitter  is no more. Replaced with Ubersocial.
New Interface – I notice that the tweets by those on my list are actually listed as sort of cartoon captions. I think this is a better use of space over previous versions: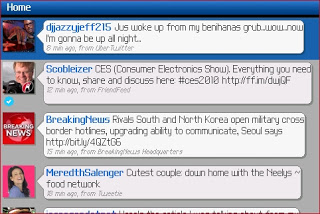 Tabs along the top, of as Ubertwitter calls it, the "Über Bar" – I really like this idea, its easy to access too – just scroll a little higher than your current tweet list and it pops up. I found the colors in use seemed to make it difficult to tell where you were in the bar – but a totally useful feature, especially when paired with lists.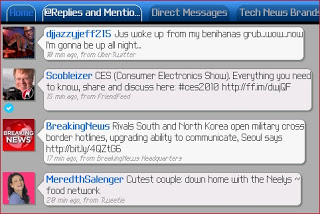 Lists – Yes, lists. This is a huge addition for Ubertwitter. having access to lists and the ability to add them as shortcuts on the "Über Bar" is proving quite useful. I would suggest one thing that I didn't see – the ability to nickname a list – especially as it sits on the "Über Bar" so you can fit more on your screen. Ubertwitter also allows you to subscribe and unsubscribe to lists. Great addition!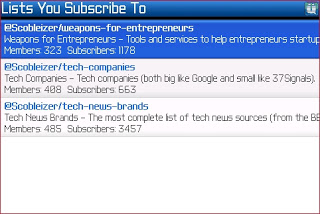 Geo-location Options – These options have improved giving you access to satellite imagery and other useful options. I like this – it's quite cool to see where the person tweeting you is coming from.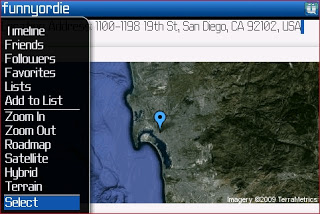 Find People – the ability to use Twitter's "Find People" and add more interesting folks to your following list is a great feature as well. I was not able to get this working even once – so it appears as though there is more work to do with this.
Other new stuff in this release includes:

– A new icon, and it looks great.

– A visual cue regarding the "Verified" status of Twitter accounts. A nice addition to the utility for sure!
The last shot I'll leave you with with is of the "Über Bar" maintenance screen: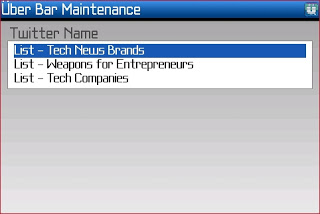 Great update – I'm looking forward to more from Ubertwitter. Let me know what yout think.