Free Tool – Screenpresso [Screen Capture]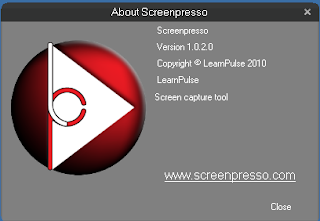 I'm always looking for new and interesting tools or utilities. Every day I come across a number of these useful programs and look forward to sharing them with you. In this series of blogs I'll go over some of the best and most interesting I have found and tested – I welcome you to go try one of them and let me know what you think!
Today: Screenpresso (Author's Web Site)
Version:  1.0.2.0
<Platforms: All current Windows versions (XP too, requires .NET)
Licence: Freeware
What it does: Screenpresso is a screen capture utility, it can capture your entire screen, and area of the screen or just a window. it's one of the many that exists for Windows today (most windows versions have a built-in screen capture utility named Snipping Tool). When I read a blog about this utility on Guiding Tech I was intrigued. What could this utility offer that would better than many of the other tools that exist today?
What makes it so great?: Elegance. Simply put, this application has been created and designed with the "power user" in mind. The beauty of this program is apparent in every way you us it. The interface is clear, and to the point. The settings are mindful of what use you have in mind. The options are well thought out. Not every utility or application is created the same – Screenpresso proves that.

When you download the application (one simple executable file), you are simply asked whether you'd like to install the program on the computer or just run it on-the-fly. Running this from a USB key/drive would be as simple as placing the downloaded file where you want to run it. This feature alone says a-lot about how you'll use the program and about how it's been designed. When running, Screenpresso takes over the [PrintScreen] key on your keyboard. When you press the [PrintScreen] key you're given the option of selecting a range – or just clicking on a window will capture all of it. Something really nice about Screenpresso is that it keeps these quick screenshots you make in a "Screenpresso History". This lets you take these images and send or drag and drop, or even open them in another program or editor. Screenpresso is that kind of program; want to share the photo? Screenpresso has built-in support for Twitter and Twitpic. Very slick.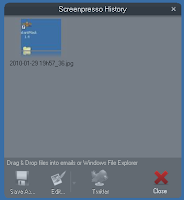 The downside to Screenpresso is that you will be forced to have an Internet connection. You'll have to be able to connect for updates and for what they call "Anonymous usage statistics  (e.g. which features are used most often)".
For a more detailed look at Screenpresso's features, take a look at this page.
Geeky Usage: You may want to use this tool to take alot of screen shots (while you evaluate an application). Screenpresso is great for this, first load Screenpresso and right-click on the taskbar icon – choose Settings. Set all of your image options and tell Screenpresso to load at startup. The "Temporary Folder" you choose will be used to store all of your screenshots as they are taken. To make the best use of this, set a network/mapped location to get access to these files easily. if you are using a virtual machine, configuring Screenpresso like this will speed up your screen capture process quite a bit!