Switching Email On A Blackberry To Google Apps (Gmail)
I have long used a blackberry address (@rogers.blackberry.net) that connected to my phone directly and then forwarded email messages to the phone from the various accounts that I held. Since moving to Google Apps more than a year ago I have noticed a number of improvements to the Blackberry Internet Server (BIS) and Google Apps Servers. I have decided today I would make the switch and show you how it goes.

1. I had to login to may Google Apps server on cwl.cc and enable IMAP access. This is required by the BIS. While here, you'll want to stop forwarding messages to your @blackberry.net address.
2. Login to your BIS Server, in Canada it may be Rogers, Bell, Telus or WIND Mobile. Once logged into this, click on "Setup Account" and enter the required details. These details are very simple, and the BIS will know that you're working with a Google Apps account. When you have successfully activated – you'll get a message sent to your phone: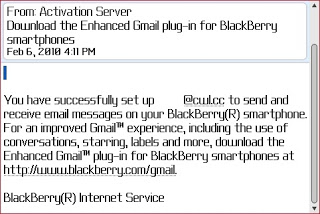 You'll also going to want to remove the Blackberry (or other email addresses) you may have setup on the BIS before continuing.
3. Install the Enhanced Gmail Plugin. When you go to the http://www.blackberry.com/gmail site with your Blackberry Browser it will look like this on your device: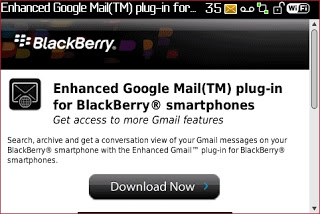 The installation should go smoothly and you shouldn't have to reboot your device. With this, you're ready to check out the features of Google Apps and test a few things.
Testing:
First and foremost, send a test message to your Google apps email address, was it pushed to the blackberry? great.
Second, delete the message off the blackberry and check on your Google apps mail box, was that removed there too? Great.
Features:
With this new email plugin, you'll find a number of useful features over that of simply forwarding your Google Apps mail account. Here are the most useful ones I've come across:- Grouping, emails will now be grouped in the main messages screen in a similar fashion to what you see on the Google Apps server. You can also delete an entire group of messages and it will be removed on the server.
– Capturing Sent Messages, probably the most useful of all new new features you'll get. Sent messages from your BlackBerry will all be stored on the Google Apps server.
– Access to common Google Apps functions, functions like archive, labeling, adding/removing a star, marking as spam can all be used while in your messages screen.
Missing Features:
Also as interesting – what you won't get from this setup. Here are some things you you won't get (or loose) from making this change:
– Shortcut Key, if you're used to pressing "M" on your Blackberry to access messages – you'll have to give that up. When you view all messages, you won't have access to the added features in Google Apps.
– Calendar/Contact Sync, Yes, you'll still have to use
Google's Mobile Sync
to synchronize your Calendar and Contacts.
Not all that bad really, and with a major update to the BIS/Google Plug-in – you're really going to want to make this transition now if you use Gmail or Google Apps. This is a great compliment to the power of Google's Mail system and a much better fit than the mobile Google Mail app that can be downloaded.