Theft? – A Story Of Insurance Penalties In Canada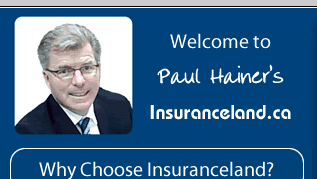 You read that right, theft. Once in a while something comes along that truly astounds you – this is one such case. InsuranceLand and Pafco have taken me for quite a sum of money, all in the name of crazy penalties. Recently, I was told I would have to pay $342.83 for 8 days of Auto Insurance. This was all explained to me, presumably with a straight face, by my Broker, InsuranceLand. For me, all I did was request an auto insurance policy, pay a hefty deposit, and then cancel 8 days later. I have felt ripped off before. This practice should be illegal in Canada.
The suspects
Broker Company – Paul Hainer's InsuranceLand
Insurance Company – Pafco
Broker – Ewa Lewandowski
Broker – Harry Altunyuzick
The Crime
Take a loyal customer of 8 to 10 years, provide the WRONG insurance policy for 8 days and charge your customer $342.83 for that service.
Context
Always important, I want to paint a better picture of what came about here. On July 27 of 2011 I was looking for an auto insurance policy. Naturally, I went to my long-standing broker. I requested the basic insurance policy over the phone (With the broker Harry). He informed me that I'd need to bring a money order or certified cheque to him of $575.00 and sign some papers. This was for the first and last payment (his description). I went and paid (like an idiot). As I was signing the papers I could see that the policy Harry was signing me up for was with Pafco and my full premium would end up being $3,444.00 for a year. I left ligher in the wallet, but with a clean record, I had insurance. I didn't choose to question Harry because I trusted him.
So, over the next few days I went looking for insurance from another company. I found a policy for a FULL ONE THIRD less than what I trusted InsuranceLand for. Needless to say, I went with this new policy and went back to InsuranceLand to cancel the policy a mere 8 days later.
Later, what would transpire is Pafco taking a payment from my bank account:

And, as I sit here to write this, on October 12th, 2011 – none of the $843.89 has been returned. None. A full 2 Months, 16 Days have passed and nothing has been refunded. Oh, but it gets better, not only have I not been refunded, I'm told that those 8 days of insurance will cost me $342.83.

The theft
So, after waiting on month and 12 days, calling and emailing InsuranceLand, Harry and Pafco with no response – I received an email from Harry saying this:

No details, no breakdown of why $342.83 of my money would be held back for simply 8 days. on previous verbal call Harry explained that the bank payment taken by Pafco was a mistake.  was extremely confused and still had none of the $843.89 returned with real bills to pay.
My immediate response to Harry's email was "How about the rest they owe me?".
No response to that at all. Nothing. So, I waited. And waited. On October 7th, a full 2 months and 11 days and still nothing returned – I emailed again for a status. I get another message
Again, extremely light on details and no information on what address was wrong or what was corrected. They still had $843.89 of my money and I still had no idea why I was going to loose $342.83 of it.
I continued to email and request more information, and in every case, the minimum amount was given and when it was – it was never clear. After being given the run-around, waiting too long for a refund, having my trust abused by the broker and $342.83 stolen from me – I realized that one should NEVER, NEVER, NEVER trust insurance companies. Be aware.
The facts
1. On one of the few pieces of paperwork I have, the Pafco Insurance Certificate, it states that there is a minimum $50.00 non-refundable premium – this is nowhere near $342.83 (see below for the form):

2. At the time of this policy, July 27th, 2011 – I was a customer for InsuranceLand for more than 8 years, I had always had home, motorcycle, and auto insurance with them. I was a a very good customer for them.
3. The math. After continually requesting details on this, more than two months later – I managed to get a flimsy description of the math behind this holdback. This is an actual email: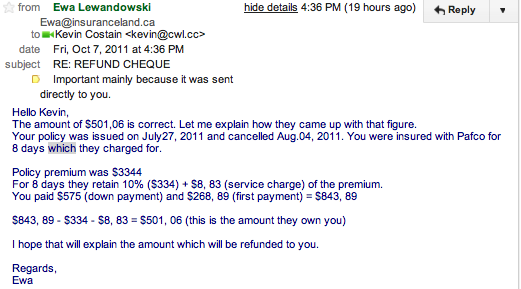 Really, for 8 days, Pafco retains 10%? Sounds very fishy.
4. One place 10% is found is in the commission rates that Brokers get paid. This is outlined on Pafco's website and detailed here:
The commissions paid by Pafco Insurance Company to brokers are as follows:
Auto Insurance: 10% – 15% of the premiums under the policy
Pafco offers brokers additional, annual contingent commission based on continuous profit and growth.
5. Based on commissions, it's clear now that it's in the interest of the Broker to go after the maximum amount of policy premium regardless of the standing of the customer. This Broker (and possibly others) are likely more interested in higher  commissions under the guise of "Working for the customer".
6. Some real math. If this policy was for 6 months, the premium on 8 days would be a steep $146.98. If this policy was for a year, my premium would be a mere $73.29 – neither of those being the $342.83 InsuranceLand and Pafco are taking. I was never clear on the duration of the policy that Harry was setting up.
7. After another 4 days of waiting – the Broker was kind enough to send over the cancellation policies of Pafco. This document added insult to injury. Take a look: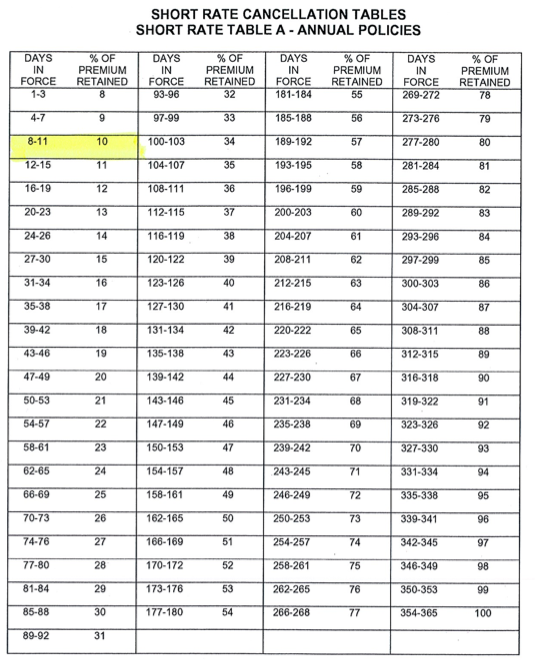 2 Months, 16 days – and still none of my money returned.
In Conclusion
Is it legal for InsuranceLand or Pafco to take this kind of money for merely 8 days? Should they have better informed me of how serious the penalty would be? Are YOU aware of the penalties you'll have to pay if you cancel your insurance? Is your insurance policy the right one for you (and not simply the one that will make the insurance company or broker the most money)?
I have taken all of my business away from the company except a motorcycle policy and that will also be cancelled shortly. I have contacted the wonderful Ellen Roseman of the Toronto Star for her thoughts and I will contact my political representative as well as the Better Business Bureau about this.
I'm really not sure what else I can do beyond the high cost of a lawyer to fight this. The best I can do is let anyone interested in InsuranceLand or Pafco know, hopefully you can be spared the same kind of nightmare.
I'm shocked that, in our country, this practice is legally possible. Please do me a favor and get the word out, don't let this stand. If you have previously been ripped off by an Insurance company, please let me know and I'll share your story too.