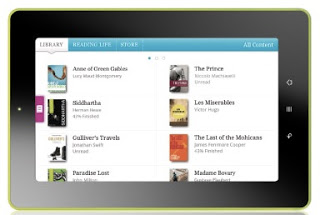 The Android operating system is everywhere. Android is popping up on so many different devices that it's only natural to see it on eReaders too. In this case, the $199 (cdn) Kobo Vox sold here in Canada by Chapters and Indigo stores. This eReader is the new color model that complements two other black and white devices. Full current specs of this device can be found here. The Kobo itself is a 7-inch fringe field switching (FFS+) LCD screen and android 2.3.3 with WiFi b/g/n access for access to the Indigo eBooks library. What did I think of this device after checking it out? Read on for my impressions.
So, unpacking the Vox you'll see that the basics – the eReader tablet, some basic paperwork and a charger and USB cable. My thoughts when opening this was that it was nice to see a separate charger and USB cable. The next step was simply to take out the Vox and power up.
Turning on the Vox, you're taken to the "Connect to Wifi" screen and a forced update download as well as being forced to register. I don't like the fact the you MUST register to with Kobo*, but alas, I did so and carried on with the setup of the device. Once on the main screen – the Vox starts off b downloading three free books and a user manual. Depending on the speed of your WiFi – this is usually pretty quick.
As I started to poke around device, I became aware of what was forced on you – and what you weren't able to do. There were a number of links on the desktop that were just opening the browser (Facebook, Twitter) and then there was the preinstalled apps like Rdio. Looking closer – it was clear that these applications weren't removable (without rooting, of course). I don't think this type of thing should be acceptable on a device like this. Customization should be given a higher priority.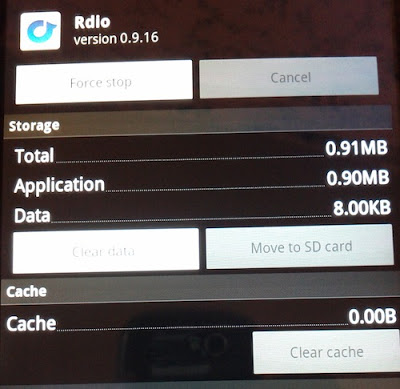 One of the first things to do, though, was get Dropbox installed. You may choose to go about it differently, but since "Install from unknown sources" was enabled I simply took the browser to https://www.dropbox.com/android and downloaded and installed the Dropbox ask so I could start installing the apps I had**

So, what's missing here (they never tell you that, right)?
– You don't get headphones
– The Vox doesn't natively support reading PDF files
– You cannot charge your Vox from your computer using USB
– No camera
– No support for Google Accounts (or apps)
– No for reading Comic Books (cbz, cbr files)
– No real Market functions like updating or auto-update of applications
– No internal GPS device
– No way (without rooting) to remove trialware applications
– No way of signing up for someone else (as a gift) without them being hammered with email messages – I used my own email address to start the process.

What can it do?
Certainly, with the included Kobo application you can read, buy and download books. The reader application keeps close track of how much time you spend reading books ad places that information in the notification bar. A nifty feature. Much of the functions here are linked with Facebook and tied closely to getting you sharing your experiences reading. I decided to see how flexible the device was – here are some of my experiences with various applications:

1. Since nothing on this device reads PDF files, I downloaded the Adobe Reader application for android. Since I would get that from FTP, I decided to go to that from a computer and the place it in my Dropbox folder.

2. Missing from the Vox was any way to hook your Google Account to it. Because of that –  none of the really useful Google Apps was available. Seriously limits the Vox's usefulness. I installed a recent apk of Google's Music service and figured that out quickly***

3. Cut the rope worked well, no graphics lag was visible. I would expect the same from Angry Birds too.

4. Total Commander Android (direct download) worked like a champ. One of the more useful Android applications out there (for techie types like myself).

5. Logmein Ignition Android also worked like a charm. I compared the display of computers on the Vox and then with a smartphone – the Vox did indeed display more line items and show more real estate (indicating, at least, that the resolution is larger). There was no real discernible lag (graphically) with the remote viewing of machines, making this a viable and useful administration device.

6. I then tested Vplayer – a well-known multi-format video player. It was great to see the device play basic video files without issue or lag (divx, xvid). Trying a 720 mkv didn't fare so well as the sound cut out at times and video didn't seem to keep up well. I then went to the limit and tested a 1080p mkv file – this failed miserably with jittery sound and video, and generally just unwatchable.

7. The music application was serviceable as a local music files player. No issues with that. The lone speaker on the right side of the device seemed like an odd choice for sound quality, but it seemed to work well enough. You do appear to get an audio jack – but the headphones or earbuds are not provided.

8. I then tried the Akimbo Audiobook player – The Vox worked well for this purpose and would have no problem becoming a regular audiobook player.

Some notes on the screen and the usability of Android: 
1. Even though the Vox sports more than 7 inches of screen real estate, the version of Android on this slate is decidedly not tablet friendly. Essentially I was using an enlarged version a phone operating system which was disappointing. Also telling was that loading a mobile capable site in the browser automatically used the mobile view. I had hoped for better use of the real estate. 

2. I also found that the screen to be incredibly unresponsive to touch commands. If I was using Acrobat Reader to view a PDF file and wanted to pinch and zoom – the Vox would slowly respond and then even more slowly render the PDF file (worse of if graphics were involved). For device that should be much faster in the process – I was quite disappointed. 

3. Even worse, the keyboard was difficult to use at times too – a product of one of Android's worst failures in design: a poorly performing soft keyboard. Coupled with the Google Instant responses in the browser, the keyboard becomes completely laggy and unusable at times.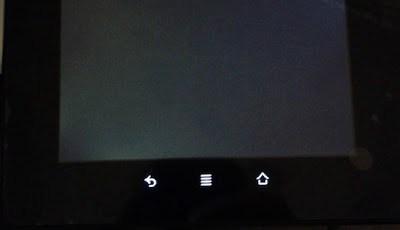 After the keyboard becomes unresponsive, the screen blanks. I had to turn the Vox off and back on.
4. Another sticking point is one that many Android users are familiar with: If you have Wifi enabled on this device – the battery is simply garbage. If you're Wifi is enable and you play a full two hour movie, expect to see your batter severely depleted. If Android is to rival the iPad and iPhone on a usability level – MAJOR inroads into battery life need to be made. As it is, if you disable the Wifi and dim the screen, you may get close to the 7 hours they quote – but I wouldn't hold my breath on that one.
Final Impressions
So, as a ebook reader, the Vox is a serviceable color device. As an Android tablet for multiple functions – the Vox has great potential here. Ultimately, this thing falls flat as far as versatility, speed and usability. Beneath all the slowdowns, freezing and force closes I came across is actually what seems like a usable tablet. I would say this is a worthy purchase at the $99 price point, but not $199.
While testing I had numerous freezes and had to outright shut off the device twice (and it was never rooted). One time (shown above), after installing an application – the browser caused a force close each time I attempted to open it.  I did not even see a way to get the browser working again – instead opting to use the more versatile Dolphin HD browser for Android. With a little bit of searching, it was clear that problems have been plaguing this device for some time.
So, the verdict – if you're looking for a tablet to rival that of an iPad. Keep looking. If you're looking for a somewhat usable and versatile Android tablet with so-so battery life – there are worse choices, but this one isn't going to win any awards.
My overall feeling is to give this tablet a 4 out of 10 rating.
Anyone else own a Vox? What are your impressions of the device?
* Seriously, you may just want to use this for reading your files and do all this locally. The registration requirement was not cool.
** Important too, but you don't have access to the Google Market, simply the limited GetJar website for apps
***Music was still accessible by way of the browser