In Canada, we're eagerly awaiting the arrival of Google Voice. While, to some, this wait has become unbearable – some have found ways to use Google Voice outside of the United States, others must wait. In Canada specifically, the wealth of VoIP (commonly called Voice-Over-IP) options on your smartphone are really starting to pile up. Enter Dell Voice, the VoIP service that aims to fill the gap that the lack of Google Voice has left in this country. Join me as I take a look at this new service.
Dell Voice is a iPhone or Android smartphone application that lets you receive and place calls using your smartphone's data connection . This service works over WiFi and 3G data at a rate of about 1MB per minute. Dell Voice allows you to assign a local number to your service (giving you four chances to pick a number) and place calls for free to a large list of free Canadian cities. The signup process is the same as most any website except for having to add name and address information for VoIP 911 services.
The voice mail service is as you might expect from any carrier. Calling is as simple as pressing the "VoiceMail" button and you're taken to a female voice with menu options. About all you'll really need to do to start is record a personal greeting with the "2" option. One thing I noticed on the iPhone app – while calling voice mail the interface is quite different from what you might expect on the iPhone. Take a look at the iPhone compared to Dell Voice.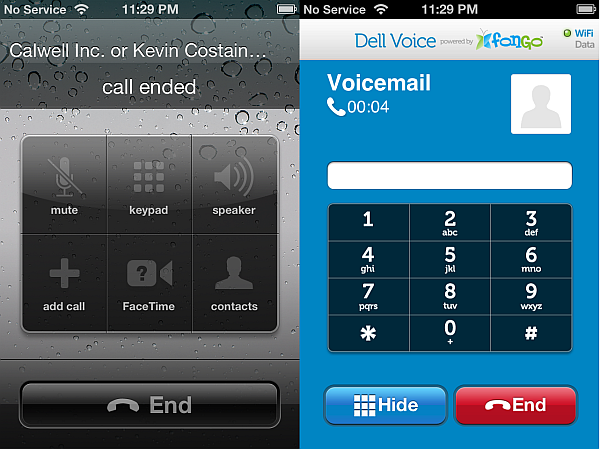 To access speaker and mute, you have to press "Hide"
I understand the reasoning behind defaulting to the keypad, but some may find it difficult to understand how to find the speaker options if this is their first exposure to a call. When calling normally in the application, the interface looks like this:
One of the more obvious omissions in Dell Voice is the ability to send and receive SMS (text) messages. This type of app would seem to be ideally suited for SMS, given what it does. In comparison, Google Voice offers very robust SMS support. Certainly, it might be possible that Dell decides to add this feature at a later time.Other than the standard interface elements, call quality will be what determines if this service lives or dies. Call quality sounded good in the tests I was able to complete. Unfortunately, more testing is going to need to happen to get a better feel for how well this stacks up to other VoIP options I've seen. When using a 3G Wifi Hotspot, the app performs at it's worst, often leaving you stick at the sign-in process and waiting. When the connection and call is possible, the quality has been good. One voicemail I wanted to hear required I press "1" about seven times before I managed to hear the message. The better the speed of your connection, the better all of this will work.
Other interesting features available are the ability to forward calls, porting your current number to the service (takes about two weeks), and apparently low calling rates (though it remains to been seen how Dell plans to earn money with this service). Also, as is typical with iPhones and contacts, you'll have to access your contacts from within the application and not from make calls directly from the iPhone's main contacts. I expect the Android application to allow you to call right from your contacts.
It's an interesting service in a mobile landscape that is  ready to take on new options (and cut the non-data parts of cell phone plans). At some point this is going to take off in Canada and these types of services will get the big three cell providers to take notice. I wonder when we'll see reasonably priced data-only smartphone services from the incumbents?
Interested? You can sign up for Dell Voice at dellvoice.ca or alternatively get the Android or iPhone applications and go through the signup process directly. From there, you login and begin using the service right away.