Apple's New iPad (3) Event: Details For Canada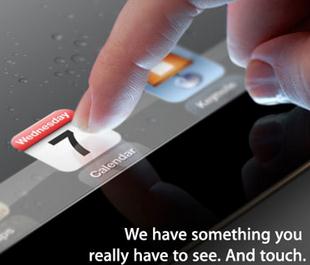 Perhaps you have been living in an alternate universe and haven't heard about Apple's event happening today. Though it's no secret that an iPad is about to be unveiled – what is not know is what else will be introduced. What does Apple have in store from us next?
Join me here as I summarize all of the Apple announcements, what is changing and – perhaps more importantly – how this will affect us here in Canada.
So, let's take a look at some of the rumours that have been floated around recently.
1. There will be retina display running at 2048×1536
2. Prices and data sizes of the iPad 3 will be the same as they were with the iPad 2
3. The iPad 3 may be named iPad HD
4. The iPad 3 is set to be available on March 16
5. A new size of iPad will be introduced, one with a 7.85-inch screen
6. The new iPad will have an A5X cpu, the next progression from the iPad 2's A5
7. The new iPad with wireless support version will include support for 4G LTE technology
8. The new iPad will have a better camera, one more like that found in the iPhone 4S
9. The new iPad will support Siri
10. The new iPad will include iOS 5.1 and iOS 6.0 will be unveiled in the announcement
The event starts at these times on March 7:
10:00AM – Pacific – 11:00AM – Mountain – 12:00PM – Central – 01:00PM – Eastern – 06:00PM – London – 07:00PM – Paris – 09:00PM – Moscow
Set your browser here after 1 p.m. EST for the answers.
The Event
So, it has started. Here's what we know:
Tim Cook has started talking on stage about post-PC devices, the event has started.
Cook: "iPhone, iPad, iPod touch are all based on iOS and we have now sold an astonishing 315 million devices through last year, 62 million in Q4 2011."
Siri will be available in Japan and will be included with iO 5.1 (as previously expected)
Cook on iCloud: "It's simple, it's elegant, it's automatic, it just works."- that sounds familiar
Movies and tv shows can now be downloaded in 1080p – on the New AppleTV!
This is something many thought would be the "Oh, and one more thing", but Apple is leading with it.
New AppleTV is not iOS based but supports iCloud and apps in some form. Eddy Cue is on stage demoing it. Prie for AppleTV is $99
Now on to iPad stuff. Cook: "The momentum behind iPad has been incredible and it has surprised virtually everyone." They wanted the iPad to define a new category. It seems that was a success. Alots of self congratulating going on here
Over 200,000+ iPad specific apps are in the App Store right now.
Cook: "You won't find these incredible apps on other tablets. In some estimates there were over 100 competitive tablets launched in the last year. You won't find that same competitive experience."
Cook: "Today we're announcing the new iPad, and it is amazing."
It will have a Retina (HD display). 2048×1536 resolution and 3.1 million pixels. This was also expected and bang on.
The home button is still there, it has NOT been removed as rumours suggested.
The new iPad will have an A5X processor, and not A6 that some speculated. 4 time faster than the first iPad. The CPU is a quad core CPU.
The iPad's camera is looking like the one they have in the iPhone 4S. 5MP backside camera. Noise reduction, Video Stabilization.
Looking very much like an incremental update on everything so far. Nothing earth shattering.. yet..
No on to the voice dictation with a new key on the keyboard. This is not Siri.
Then 4g LTE. This is a big one. 4G is the faster cell network supported by a few carriers. The rumours were true.

"Performance is amazing and you're going to love using it on these new high-speed networks." – Looks like Verizon will be supported too. WIND mobile needs an LTE network, pronto!
In Canada, the support is still Telus, Rogers and Bell only (big three).
They're also saying the iPad is World-Ready.. hmmm..
Then, on to battery life, this new iPad will do 10 hours of battery, 9 hours on 4G. Not blow-me-away numbers.
On to pricing, $499 for 16gb, $599 for 32gb and $699 for 64gb. Pricing all the same. Available on March 16th!! It will be available in Canada on the exact same day as in the US.
Now on stage, games and various apps are being demoed on the iPad. Still haven't gotten a name for it other than "New iPad". Most of the apps have been updated for this new iPad. Still similar pricing for most of these apps. Noteworthy is iPhoto in the iLife package. This is new and exisits in addition to the "Photos" app on the iPad (or to confuse users). iPhoto ($4.99) will support photos up to 19 megapixels. Wow.
Right now, the Apple Store is still down. I can see the masses all ready to pre-order.
Also of note, the 30-pin connector is  still with us (as well as the home button), so no radical changes to the iPad today. The iPad 2 will see a typical price drop of about $100 across the board.
Is this really going to be called "The new iPad"? That's about the worst possible name Apple could use. Looks like white and black flavour will persist.
Final Thoughts
The "New iPad" name is really a crappy way to go forward. Really, what will the next iPad be called? The New New iPad? Many of the updates promised are simply just incremental to the product, better camera, better display, bette apps. I would call this the "Better iPad" if we were going to use lame names. Seems more likely people will take up the name "iPad LTE" or the confusing "iPad 3G" (3rd Gen but people will think of 3g cell service). You're confusing us Apple. I like the way they've positioned the iPhoto application, but not having an external SD slot (for photographers) really seems to leave out the target market. Many thought Siri would be added to the mix, but it seems Apple is not brave enough to try that (yet). Are you going to buy one?
Video of the event has been posted here.
New Today (US Pricing):
AppleTV – $99
iPad 16gb  – $499 – 4G – $629
iPad 32gb – $599 – 4G – $729
iPad 64gb – $699 – 4G –  $829
A big thanks to Engadget for the images, as I followed their live blog of the event here.