Review: Dell PowerEdge R410 Server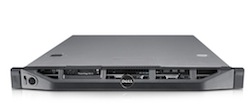 Aimed firmly at lower end shops, the Dell PowerEdge R410 1U Rackmount server is the sort of server that comes with a pretty good set of options. I had previously seen a higher end model server, so this was a chance for me to check out one that was configured for a little over $1,500 CDN.

Basics
As configured, this server has the following specifications:
Intel® Xeon® E5620 2.4Ghz, 12M Cache
8GB Memory (2x4GB), 1333MHz (Max 128gb)2 x 500GB 7.2K RPM SATA 3.5 Hard DisksPERC S100 Controller, 2HDD
No Operating System pre-installed, installing Ubuntu by way of USB interface
Hardware is Ubuntu certified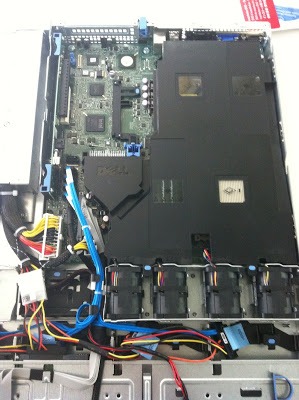 Installing Ubuntu from USB was an interesting process (laid out in wonderful detail on Ubuntu's download site), using a USB key is likely allot faster than it would be if I were to install from a CD. I was a bit perplexed by Ubuntu's installer finding two disk drives (when a Hardware RAID was actually installed). I chose the first disk and let the installer run. The installation was fairly painless from there since most of the drivers were included.
One thing that sucked was that Ubuntu didn't support the onboard Perc S100 controller for a RAID1 configuration. I was forced to use Ubuntu's software RAID setup to create the required mirror set. The rather lengthy process of building a RAID in the setup reminded me of Novell in many ways. 


Pros – What I liked
Front Clips – I've seen this before. These clips seem to be a way of protecting mounting screws. The screws themselves were still too small for the rack I had.
Service Tag Tray – This is perfect for rack mounted servers and the R410 includes the ability to get that code by way of a small tray on the front bezel.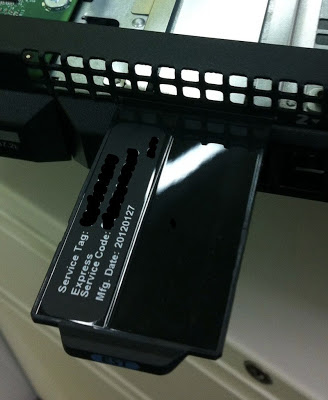 Cons – What I didn't like

Size – The R410's profile is 1U, but the length of the server is massive. It appears as though some of that is due to the inclusion of lengthwise position hard disks. You can put four drives in the chassis in total, and this makes the size of the server massive indeed. The drives themselves are not hot swappable or removable (there are hot-swap options).
Lack of expansion options – I guess it's what you get when you pickup a lower end server, but you won't get any high speed connection options for SAN or eSata storage. Beyond the 4 hard drives, you'll have to expand using other methods. You're also limited to USB 2.0 ports in the Intel 5550 chipset.

O/S Install Option – On the Dell support site you aren't given much information on the Ubuntu Server installation. I would think Ubuntu is a popular enough Linux version to deserve a mention (especially since it's certified).
You certainly could do worse than this entry-level rack server. Despite some of it's clear shortcomings, it's been a solid performer since being installed. You can find out more about Dell's server's by hitting dell.com. I look forward to checking out other technology and even another Dell server in the near future.