Saving Money On An Apple Power Adaptor: Is It Possible?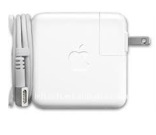 When I think of ways to save cash on Apple hardware, not many options come to mind. It won't happen with Apple – as a recent store visit greeted me with "Sorry, we only sell new hardware". I also went to a third party, and they basically resold Apple hardware at the same price. All I was looking for in this case was a 45W MagSafe power adaptor (commonly used with Macbook Air computers). Join me as I order one off the Internet in an effort to save a little money.

Summary: I take a close look at the experience of buying a legitimate Apple product versus buying one off the Internet from a third party retailer. Is the product legitimate? Is there any potential cost savings?
To say much of Apple's hardware is overpriced is an understatement. If you want a basic 45W power adaptor for your Apple computer it will cost you a whopping $79.99 CDN. You can cut a bit of a corner by going into a Best Buy and price matching this item (with a printout of Apple's Canadian site) which sells for $80.99 and they drop the price to $79.99 and 20% of the difference. You end up paying $78.80 for a legitimate Apple 45W Power adaptor. Here's a look at the box the adaptor comes in.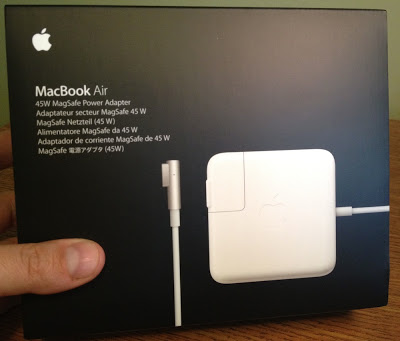 With all legitimate Apple products, there are certain things that come with them. You see the Apple logo on the adaptor's case, and the markings that are on two sides of the adaptor itself. Also, with this package you get the two pin power connector as well as the three pin (grounded) adaptor which is commonly used as an extension because of it's length.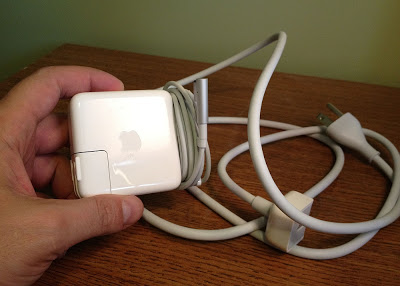 And, of course a closer look at the details on both the top and bottom of this power adaptor as they look up close. Click on any picture to get a closer look at the details.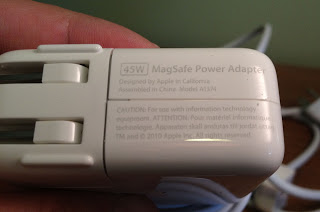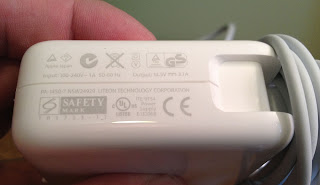 On to the Internet
The first step, as always, is contacting the Canada Border Services people to determine the duties on this item. If your item is subject to duties (like a computer battery), you'll be paying taxes and brokerage fees that may double the price of the item itself – not to mention the possible delays. So, be safe and make sure. Components such as this are duty free coming into Canada.
I looked in a number of places to find this product, leaning more heavily on local Craigslist listings. But, this is a very rare item to find private sellers listing. Most of the listings tended to be the overpriced local retailer advertising wares.
I then turned to Amazon, where I had seen some success in the past with simple items like this. I found one such adaptor selling for $50.00 US from a third party called Charger4U. The picture they list looks genuine and the text of the item says "Genuine Apple". The price was right (despite the bad reviews), so I decided to order it.


When the item arrived, it was in a bag and a fairly non-descript box. It certainly wasn't looking like an Apple branded product. The box even looked like it was banged around a bit.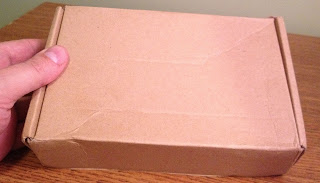 When I opened box, what was included was simply the adapter and the two-pronged connector. The extension was not part of this package. When looking at the computer end of the connector, it looked good. Since I didn't require the extension part of the package – this was great.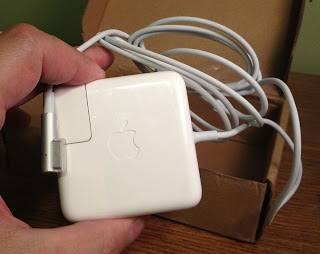 Let's take a closer look at the markings on the adapter. As always, click on one of the pictures to take a closer look. From what I could tell, this adapter looked like a legitimate Apple 45W Magsafe. Either that, or it was very good looking fake. I could also feel no difference in weight between the Best Buy and Amazon versions.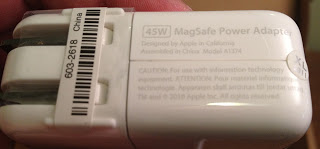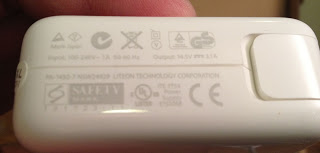 Based on what I needed, the Amazon-ordered adaptor fit the bill. It appeared to be a genuine Apple product and worked well when I plugged in into an Apple computer.
Price of item from Best Buy (charged to credit card): $89.04 Price of item from Amazon (charged to credit card): $50.85
Total Cost Savings by ordering from Amazon: $38.19

Final Thoughts
It is true that the Internet is a minefield of fakes, scams and illegitimate deals. But, if you do your research, make sure everything is above board with a well-known retailer and ask lots of questions – you can really save some money. Given this case, the $38.19 is exactly what I was looking to save when I realized the adaptor was required. Call this a win for Amazon.