300: A Milestone For Blogging CWL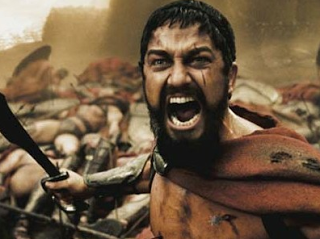 This is, as they say, a milestone. I had a feeling this might happen, but I didn't think it would happen so soon. Since moving this blog over to Blogger – and there have been a few changes over the years – This will mark my 300th post. That's really not too shabby for something that lacked a general direction, ideas and any sort of audience not so long ago. This has meaning too, because we're somewhere around the middle of the year and I can safely say it's been the best year ever for this blog. So, join me as I take a look at some of the past, present, and the future of Blogging Calwell.
This all started with not much blogging happening since the last incarnation of my site in early 2007 to 2008 (calwelltech.com). You won't find much about that domain, but if you go back further to between 2002 and 2007 (calwell.ca), you'll find some older articles in the Internet Archive Wayback Machine. It's hard to believe that I've kept a presence going  on some level for more than ten years. Back then, I'd write about almost anything and really had no way to know how many people were reading. At some point in 2008 I was made aware of the Blogger platform. New ways of blogging were becoming more and more popular and required little or no coding to get an article posted. I decided to go for it.
This generally just started as a personal blog mixed with technical articles. In time, I would become more and more included to write for the business and technical side of things. By the time February 2008 would come along, I knew it was time to split the personal and technical blogs into distinct sites. Thus was created blog.cwl.cc and blogging-kevin.blogspot.ca. Since that time, I have been writing with some frequency and now you see post 300 here on Blogger.
Blogging, Updated
The very first time I offered an update to the progress of this blog, I was very new to analyzing traffic data and patterns. It was amazing to see the growth of Blogging Calwell through an increasing audience. Here's what my first update in 2010 looked like for the blog.

This was, to me, incredible to watch unfold. During the entire year, this blog saw 4,174 visits. Over the course of 2011, my ability to keep track of analytics fell apart (frankly, I didn't have allot of time to follow it). So, not only did I not have much data to work with, all of the data I did have, ended up getting lost to errors I made in the tracking code. This had to improve.
Blogging, Back On Track
By December 2011, I came back to the errant code and found out the mistake I was making and corrected it. By that time this blog would see more frequent posts (and, even guest posts) and I felt a new excitement for relating stories about new and interesting technology. It's more than an understatement, that you've certainly been responding to this. Here is how Blogging Calwell has grown from January 1, 2012 to June 20, 2012.

What you see in the chart above a slow and steady rise of visits for the last six months of this blog. Over this time there have been 22,808 visits and 29,802 pageviews. This is nothing short of miraculous for me and I thank each and every reader for taking the time to indulge everyone who has written an article on Blogging Calwell.
Blogging, the Future
Over the last little while, many of you who have returned may have noticed some changes to Blogging Calwell. There are too many to mention for sure, but I wanted to point out some of what I've been trying to do here to improve the overall experience here. This will continue to evolve, but I wanted to point some of the more obvious stuff out.
One of the first changes I wanted to make (but came across rather accidentally), was to add a search box that actually works. When I found this workable solution, I was pleased and I think you will be too. Go ahead, try it anytime if you'd like to find a post. Let me know if it meets your expectations.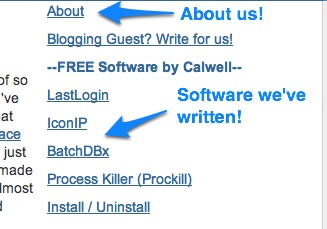 Over time other parts of the site have been added to call out information about (get it?) us and some of the software I've written. Much of this software is old, but you'll find it free and it may be useful to you. I provide all of these utilities free and most of them even come with the source code – if it doesn't, you can request it. So, take a few moments and poke around. You might find something useful there.
That's right, over the last little while I have looked to find ways to monetize this site. It's always intended to be a modest and unobtrusive thing, but there are going to be a few ads here and there – clicking on them will help support Blogging Calwell!
The future looks bright and I'm confident you'll enjoy all of the new and interesting stuff in store here at Blogging Calwell. I have really enjoyed making this an everyday part of what it means to be part of Calwell. I'm excited to see what suggestions and ideas you might have for changes. What would you like to see featured here?