Review: Brother MFC-8910DW Printer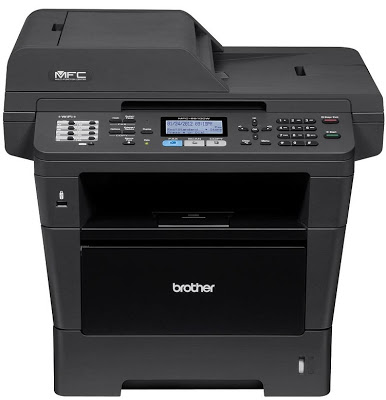 Moving up to more advanced printing capabilities can be a tough road for small businesses. When looking for something that can duplex (print on both sides of the same paper) or connect wirelessly, finding the printer that fits your exact needs may cause the price of the device to get much more expensive than once thought. Recently, I managed to take a look at Brother's MFC-8910DW printer and can share my thoughts on this device.
The  Brother MFC-8910DW is fairly light, weighing in at about 36lbs. This laser printer is rated for a fast 42 pages per minute (PPM). It is, however, large at 19.3″ (49cm) wide, 16.3″ (41.4cm) deep, and 17.6″ (44.7cm) high. Though it's large, it could fit on desktop, you'd just have to do work from the printer standing up.
Costs Related to Printer:
Brother MFC-8910DW Printer – $485.00 to $510.00 – Buy
Standard Yield Toner (Part: TN720) – $59.00 to $68.00 – Buy
High Yield Toner(Part: TN750) – $97.66 to $105.00 – Buy
Drum unit (Part: DR720) – $122.81 to $129.00 – Buy
The key features you'll want to pay attention to with this device are duplex (double sided) printing and duplex scanning (by way of the auto document feeder). It's not hard to find a laser duplexer, but finding a multi-function device that also scans double sided is more than a challenge when you want to keep costs down. I'm happy to say that both features worked well in all all of the testing I did.
Firmware Upgrades are essential to devices like this – but unfortunately, this process of upgrading the device's firmware is not recommended over the wireless network – a sufficient enough pain to mention.  A useful addition to the device is a backlit control screen. One of the difficulties when using less expensive Brother printers is not being able to see the screen when at certain angles.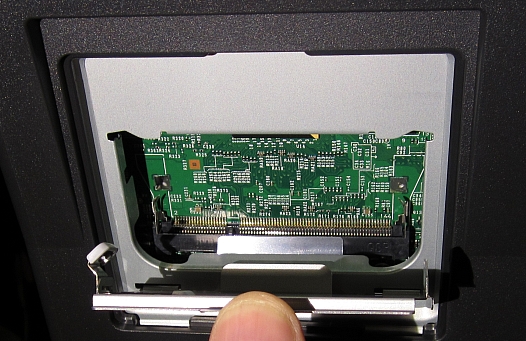 The left side of the printer features a RAM add-on Slot
Adding more memory (up to 256MB more) is done by inserting a DDR2 SO-DIMM (144–pin, PC2-5300) into the slot found on the left side of your printer. The difficulty will be finding this type and size of memory on the market because it's so rare. This type of size and pin of RAM would probably be way over-priced wherever you found it.
Google Cloud Print is supported with the MFC-8910DW, but it did not work correctly on the first attempt. Logging in was met with repeated "Internal Error" messages. No other troubleshooting or diagnostic information was available (that I could find).

First attempts to search for answers about this failed. Brother's own Cloud Print Guide is extremely light on information (and stale too, published a year previous). Since there were a number of pints where this could fail, I worked backwards:
1. A basic Gmail account (without 2-step enabled) can access this service
2. Gmail account with 2-step enabled requires that you create an "application-specific password"
3. Google Apps appears to be supported (per the Google Blog), but doing that from the printer's web interface isn't possible. To get the printer working you have to install Google Chrome on a computer that is on the printer's local network, go to Chrome's advanced options and enable it using the options shown below. The stupidness of this is that Chrome needs to keep running on the system to keep the printer online.

Once Cloud Print is setup you can print from Android or Chrome so long as you're signed in. As a system, this stuff is pretty clunky, the Android app hits you with crazy ads, but it works OK. I expect this to be improved in the coming years, hopefully with firmware improvements from Brother.
Printing and scanning from a USB flash drive (or storage key) is done by way of a connector on the front-left of the device. Once you place the USB device in the slot, the printer reads the disk and lights up the console of the printer. Scanning a document places your preferred scan type into a folder named "BROTHER" on the drive. When doing a print, you're presented with a folder structure. The printer seems to support printing at least PDF files, and JPEG pictures, but was unable to read DOC, TXT or DOCX formats.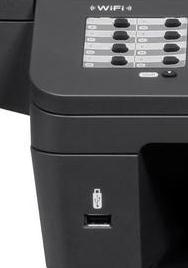 Driver support for the printer is good with drivers for all Windows and Mac flavors as well as mobile devices. Also, firmware updates and a history are also available. You can access the downloads for this printer on Brother's website directly here (as long as the location stays active).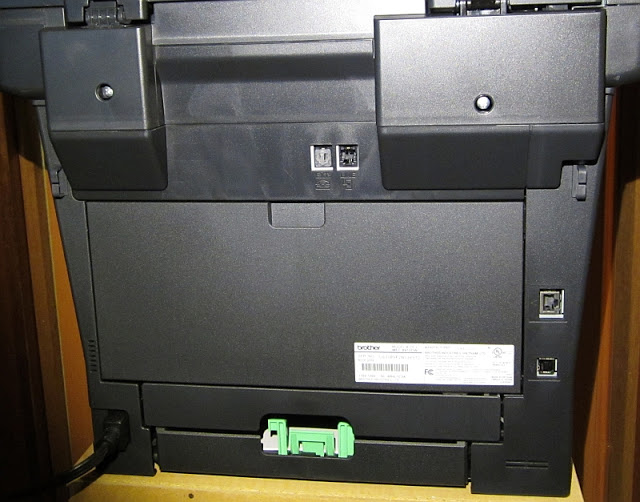 The back of this printer sports the typical connections in an easy-to-reach way – though using WiFi reduces much of the cabling
The included user's guide is quite in-depth providing information like troubleshooting and essentially every apparent menu option possible. I found the supporting paper documentation to be pretty good considering what I usually see with printer is light (expecting the user not to read any of it).
Pros – What I liked:
– Detailed documentation was helpful
– Setup was very straightforward
– Ability to scan documents directly to a USB key is useful
– Similar menu options (like pressing 2 to end scan) as previous brother printers is good attention  to detail
Cons – What I didn't like:
– Google Cloud Print support could be far better
– USB printing document format support is limited
The MFC-8910DW is a worthy upgrade if you want to move up to additional capabilities and don't want to break the bank. I was generally impressed with the speed and abilities of this printer and would recommend it. In some cases I saw the drum print paper warped (likely because of the heat), but I don't see that as a major issue. Also, the box this printer is packaged in can fit, with a little work, into the back seat of your standard four-door car.
Do you have experience with this printer? Share your thoughts.