The 2012 Apple iPhone Announcement (Live)

Apple is suffering from a great deal of things these days. Certainty not a lack of money, that's for sure. But, Apple has is a centerpiece of technology now, and all eyes are on it to deliver at such a pace that it's become absurd. Take the probable launch of an iPhone – just the mere rumour of this product launching is enough to hurt sales of Apple's previous phone product. Apple is also has it's users on an ever changing merry-go-round that seems to never stop. Apple's products have to have the shortest lifespan of all technology because of this ever speedy cycle of new products and upgrades. Today, we have a new announcement – let's see what's in store.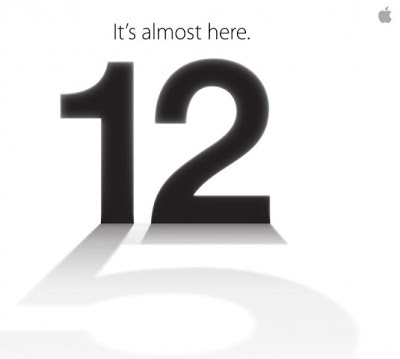 The September 12 event invitation sent out on September 4, 2012 (Notice the shadow of 5 below the 12)

Some of the rumors being widely reported:
The Apple event will occur on September 12 at 1:00pm EST
1. A new iPhone (will be called iPhone 5)
– It will have a larger screen (1136×640), with a noticeably longer size to it
– It will have a new, smaller dock connector
– It will have completely redesigned headphones that resemble a more oval look
– It will be thinner and have a number of outside components relocated
– It will use the new A6 Apple chip
– It will have a smaller SIM card slot labelled "nano"
– It will support a worldwide standard of LTE
– It will be released on September 21
2. New or updated iPod Nano, Touch, and Shuffle
3. A possible iPad Mini announcement
The Event
Starting at 1 PM Eastern Time, the event was not streamed live from Apple, but all sorts of blogs were "Live" blogging from the event to provide details about what was coming. As usual, the event starts with Apple giving props to itself. 62% of the tablet market. 250,000 iPad apps. 400 million iOS devices sold by Jun 2012.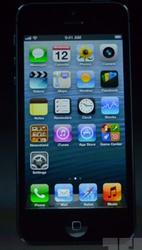 "Exciting news about the iPhone"
The new iPhone is now official. Looks to be just like what the leaks were saying.
– 18% thinner than the iPhone 4S
– 20% lighter than the iPhone 4S
– Retina display, 326 PPI
– 1136 x 640 screen resolution
– 16:9 aspect ratio
– Called iPhone 5
– Older apps will have a blacked out border (letterbox)
– Includes HSPA+, DC -HSDPA and LTE support (looks like WIND Mobile is still out)
– Apple A6 Chip
– 2 x performance but 22% smaller
– Battery life is longer than that of the iPhone 4S – LTE browsing of 8 hours
– Camera is 8 megapixel 3264 x 2448, 25% smaller, faster photo capture
– New feature in iOS 6 called Shared Photo Streams – sharing photos from iCloud
– New feature in iOS 6 called Panorama – taking large 28 megapixel panorama photos
– FaceTime on the camera is HD 1080p, face detection, take photos while recording, calls over the cell network
– iPhone 5 has three microphones, bottom, front and back – very cool
– Speaker is smaller, still on the bottom right of Phone
– Connector is called Lightning and is smaller, reversible, more durable (really?, doesn't look like it)
– Adapter for the new connector is available, it looks typically chunky
– iPhone 5 will be in Black and White (still)

The screen has an added row of icons and naturally more stuff is view-able. Apple says they've updated all the software. This essentially confirms iOS 6. Looks like the phone is going to be a significant specification upgrade. From the front, the phone looks like a bigger iPhone 4S. From the back, the two-tone looks is very distinctive. The bigger screen is a welcome addition as well.
Pricing across the board is the same for the iPhone 5 as it was with the iPhone 4S. This, of course, drops the price of older phones. Pre-Order is September 14th, release is on September 21 in Canada and US. December in the rest of countries.
Here's a great comparison if the new phones: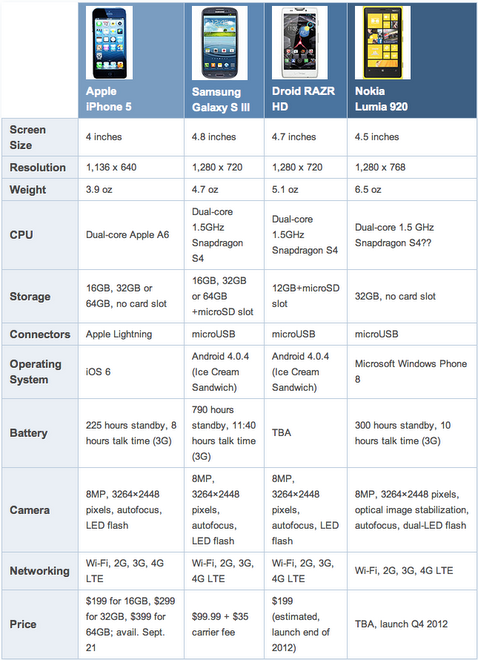 iOS 6
– Turn by Turn directions are included in the product, maps are using the new mapping software (not Google)
– Notification center is updated with quick tweets or Facebook posts
– Safari has a full screen mode, iCloud tabs (similar to Chrome's Other Devices)
– Mail has a feature called VIPs
– Passbook holds all of the Cards in a wallet-esque way – this is the image that we've seen on many of the recent leaks
– Photo stream sharing shares photos in a group from iCould and can email people
– Siri is enhanced with scores, movie times and other details (probably not in Canada)
– Lots of other enhancements
– Also runs on iPhone 4S, 4, 3GS, new iPad, iPad 2
– iTunes includes integration with Facebook in most places
– Released September 19th (Jailbreakers take note!)
iTunes
– A new version that looks to run in a full screen mode
– More of a mobile experience on OS X, it seems
– Appears as though Ping is gone (thankfully), replaced by a sort of sharing service inside of iTunes
– Lots of pop-up suggestion windows when playing and searching for music
– The iTunes interface does look nicer, the store look and feel appears consistent on all devices (navigation in the store has classically sucked)
– Available in late October  – an odd delay
iPod Nano
– 350 million iPods have been sold
– New iPod Nano
– 38 % thinner, with a home button, larger, 2.5″ screen,
– 7 different colors
– FM Tuner
– Bluetooth
– Pricing, $149
iPod Touch – 5th Generation
– 6.1mm thin
– They seem to be aware of it's use for more than just a music player
– 88 Grams
– Larger display (same as iPhone 5)
– A5 (dual core) chip – same as what's in the iPhone 4S
– 40 hours of music playback, increased battery life
– 5 megapixel camera, not nearly as good as what you'd find in an iPhone 5
– Has a strap that can be attached to the bottom corner of device called Loop
– Airplay is support, Facetime in HD
– Siri is supported in this new version
– 5 different colors are available
– A newly designed earbud is being released – same as what's been leaked previously. Available today. Will likely be included with everything.
Pricing:  32GB, $299
Conclusion
That looks like everything. Apple is really going to have a hit with this new iPhone. on the surface they've changed all the right things. It also seems like Apple is fighting a loosing battle keeping this information a secret. All of the leaks that have come before this announcement have been pretty much bang on. In all of these changes and enhancements it's clear the Canadian market for phone is not going to change much, we're still going to paying a premium for an iPhone with the incumbents.