Microsoft Surface RT Gets Priced – Can It Compete?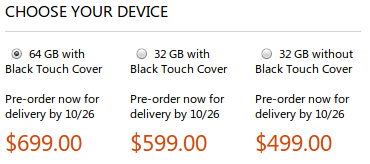 This is interesting. Microsoft's new RT-Based tablet devices have been priced and are available for pre-order online in the US. Pricing is is $499 US on the low end (with 32 GB) and $699 on the high end. My thoughts are this device can't possibly compete on that pricing. This tablet is more analogous to the iPad than a PC – and the low end iPad (16GB) starts at $499. Many expected this device to undercut Apple by at least $100 to gain market share- but that's not happening – well, it does, see below. It still looks like a non-starter.
And, remember, this is an ARM Cortex-A9 CPU that will not run any of your current Windows x86-based applications. This also includes Office Home and Student 2013 RT Preview.
Update: Commenter runewake2 correctly points out below that I can't count. The Surface tablet will undercut the current iPad by $100 on the low-end when you factor in the memory of these devices. Here's how pricing looks memory-for-memory:
Surface (No Touch Cover) 32GB: $499.00
iPad 32GB: $599.00
Price Difference $100.00
Another useful update: The Microsoft Surface team answers a boatload of questions on Reddit about the new device. There will be no NFC or GPS in the Surface, among other things. Interesting too, that up to release date, very few have actually tried the touch cover for any extended period of time.
My feeling on this tablet still stands when looking at the real low end costs. Prospective buyers on the low end who are looking at the real cost of acquiring a device (despite the amount of memory) and the fact is the lowest you'll pay for Surface is $499, for an iPad: $499. The question is – will the 16GB of higher memory convince people to buy this? What do you think?