Review: Samsung Chromebook Series 5 – Ready For Business?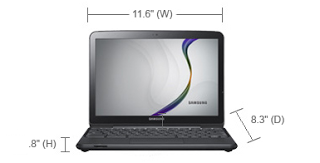 Opening the box, this Chromebook felt very light. So light that in some ways the screen and body felt almost too plastic. The screen itself is bright, but very thin and some may think this is too flimsy. The keyboard is nice, large and feels great when typing. I didn't find myself accidentally hitting buttons and causing issues and the trackpad stayed out of the way (for the most part). The included USB port was useful for adding a wireless mouse to the mix and detected the Microsoft Wireless Mobile Mouse 3500 I tested without issue.
Truly, this is a Google ecosystem device – so you'll find better integration and power when you use a Google account (on Apps or merely just a free Gmail account). Other options for mail access are possible, however, the integration you should expect is little more than accessing web mail. In the future, I'd like to see every mail provider offer an HTML5 web mail interface – making the ChromeBook a great option for that future.
With a Chromebook Series 5 in hand, it's time to test and review this new and intriguing option from Google's engineers – here's what I thought of it.
Samsung Chromebook Series 5 Titan Silver 3G –  Full Specifications
Full Model Number: XE500C21-H04US
So, what does the ChromeBook do well?
Battery Life – Indeed, this is the first laptop/ultrabook I have ever used that let me write/watch video/read mail/read news/edit files and not keep an eye on the battery indicator while using it (yes, that includes Macs). In contrast, my previously-used Windows 7 based netbook has degraded to the point where I get no more than 2 hours from the battery and the machine requires a near constant power connection to operate. In an environment where free Wi-Fi is everywhere, but power outlets are rare – this is the kind of machine road workers will love.
Chrome Browser – If you're familiar with using the numerous features of Chrome including bookmarks sync, accessing links from other devices and the general use of extensions you'll be right at home with the Cromeboook. The browser operates almost exactly the way you would expect on Windows or Mac.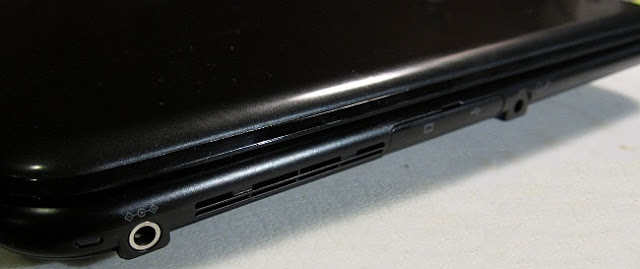 A look at the left side connectors (a second USB port is under the door)
Sleep/Resume – Rivaling the power and ease of Mac laptops – the Chromebook is great with resuming near instantly. There were no issues with powering back up by opening the screen and the Chromebook did not needed to be rebooted once while in use unless an update was required.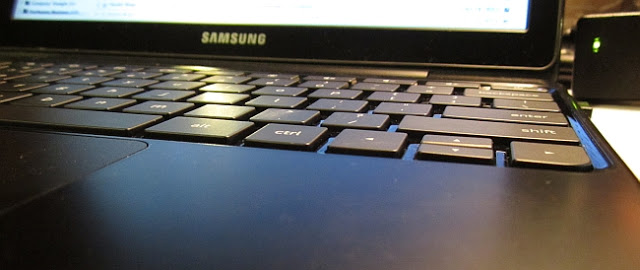 The keyboard actually feels good to type with
Flash Support – The ability to view and play Flash video or occasional Flash-based site is useful and so far has not crashed or caused undue drain on the battery. Clearly this can be done well on a mobile device. With some heavy-graphic sites, scrolling can be choppy.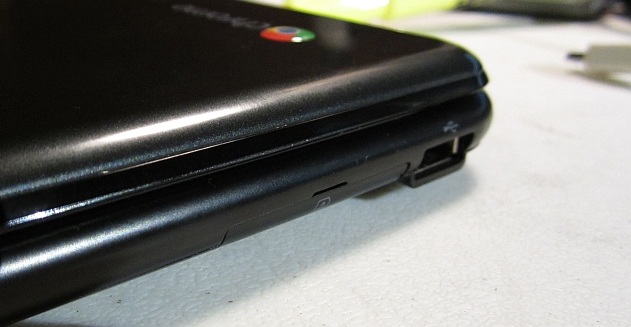 The right side features a USB port and SD-Card slot
Screen Shots – Taking screen shots was straightforward on the Chromebook and utilized a key along the top of the keyboard. Full window and region shots are possible (Just like on the Mac). I found the process of attaching a file (from within Blogger) is a bit non-intuitive, but it works.

Instability: In Chrome OS Version 20.0.1132.59 I encountered a few cases of Chrome crashing while attempting to take screenshots. When this happens, you'll have to reload all of the pages you have open. Some screenshots have started taking too much of the screen – including the black bar at the top-left.
Updates – When turning on the ChromeBook for the first time, the "Laptop-as-Web-Browser" is never more evident. Once booked, you're presented with simply what looks like a full screen web interface (much in the same vain as is you only used Chrome full-screen in Windows). Settings for various basic functions are found in the browsers options. The beauty is in the updates – shortly after first using this ChromeBook an update was signaled and ChromeOS transformed into more of a desktop and windowed interface. The update was a welcome change.
For the Business User
The real question will be "Can a business use a device like this?" – And, given it's apparent limited capabilities, was it possible for this device to be great at these types of applications?
Remote Desktop – For all of the Windows-Based applications, users will need some sort of remote access options. Using Microsoft's Remote Desktop Protocol (RDP) for accessing remote Windows machines is possible by way of a few HTML5 "apps" in the Chrome Store. Given the fairly good options for this already – remotely connecting by RDP is going to be quite trivial. You may be disappointed with the lack of advanced features like file access and printing across the network – but the options here aren't bad so far.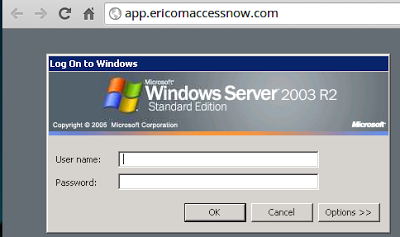 Other Remote Access Options – I've had success connecting with VNC and Logmein with Chrome OS and have found options for Citrix-based remote sessions too.
Printing – An important service for every business, printing with a ChromeBook has to be done by way of Google's Cloud Print. If looking to use ChromeBooks, your Administrator is going to need to setup at least one printer under Google's Cloud Print system (I discuss setting this up with a Brother MFC-8910W). Chrome also offers many of the desktop-based options like "Save to PDF" and "Save to Google Drive" that should cover other printing needs.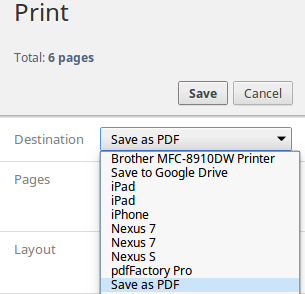 What can't be done
Local and File Server Access  – If your office has a local file server such as a Windows Server or NAS, Chrome OS does not support accessing these local resources. Google's main suggestions for this major shift if to place your files on a Google Drive account and sync them. Certainly, many will balk at loosing this kind of access – so be sure this is what you're looking for. Accessing external USB drives is possible, but you're given a limited set of options for the files (Generally just to view Excel/Word/PDF files or archives).
Downloading – Technically, you can download files, but given the small drive size (16GB) and lack of ways to get files off this device (beyond placing it in the cloud or on external storage), you'll probably not be using your Chromebook to do any heavy downloads.
Delete – Yes, the ChromeBook does away with the DELETE key on your keyboard. Like Apple Macs, you're given only a BACKSPACE key which does the job most of the time.
More Advanced Image Editing – Chrome OS has some basic image editing options in the File Manager (CTRL+M), but not much more than the basics. HTML5 support in Chrome OS makes tools like iPaint and CloudCanvas look very promising in this regard.
Function Keys – Many internal company applications require the use of function keys (or "F" keys). These special keys are found on all Windows and Mac keyboards, but Google has done away with them in favor of local functions like brightness and sound. The Macbook Air does something similar (letting you alternate to function keys, if needed). When using this Chromebook for remote sessions, this lack of support may cause issues when accessing Windows applications.
Keepass – If you're a user of this popular password database application, the options for this are  very limited on Chrome OS. You'll likely need to migrate your password storage to a Cloud-Based solution like Lastpass to do this more efficiently in the Chrome browser.
Left Untested
3G Data Access – Included with this ChromeBook was 2 years of access to Verizon's 3G network. Support for this was not possible in the testing area so this feature was not used or assessed.
External VGA Adapter – A small connector and adapter (included with the Chromebook) allows for an external monitor connection. This adapter was not tested in this review.
Final Thoughts
While many will say the "Post-PC" era is here, the Chromebook may be the device that takes us to solid "Dead-PC" territory. The Chromebook is light, decently fast and well-suited for Google cloud-related work. Options to extend the Chromebook with Ubuntu Linux are out there and I expect more to come along.
The Google ChromeBook is not yet available in Canada, but expect it to be arriving here shortly. Details on these devices and information on ordering can be found here.