First Look: AOL Reader – Another Google Reader Replacement
Google Reader is in the news as the July 1st deadline approaches very quickly. Users are scrambling and a large number of interesting contenders are popping up with RSS Readers to fill the gap left by Google. Today, I gained access to the beta of AOL's new RSS reader simply called AOL Reader. Based on screenshots I've seen, AOL's interface looked very similar to Google Reader's and I was hoping this tool would stack up well as a worthy replacement. 
This was a surprise. We knew Digg was working on an RSS reader, but AOL? In this new world devoid of a dominant RSS reader, all sorts of companies are stepping up in a bid to rule the news reading space. Given the potential of such a tool, running non-stop on most user's computers, this is becoming a popular competition for our eyeballs. Later in the week, I'm going to give you an inside look at my adventure to find a Google Reader replacement, and where I ended up.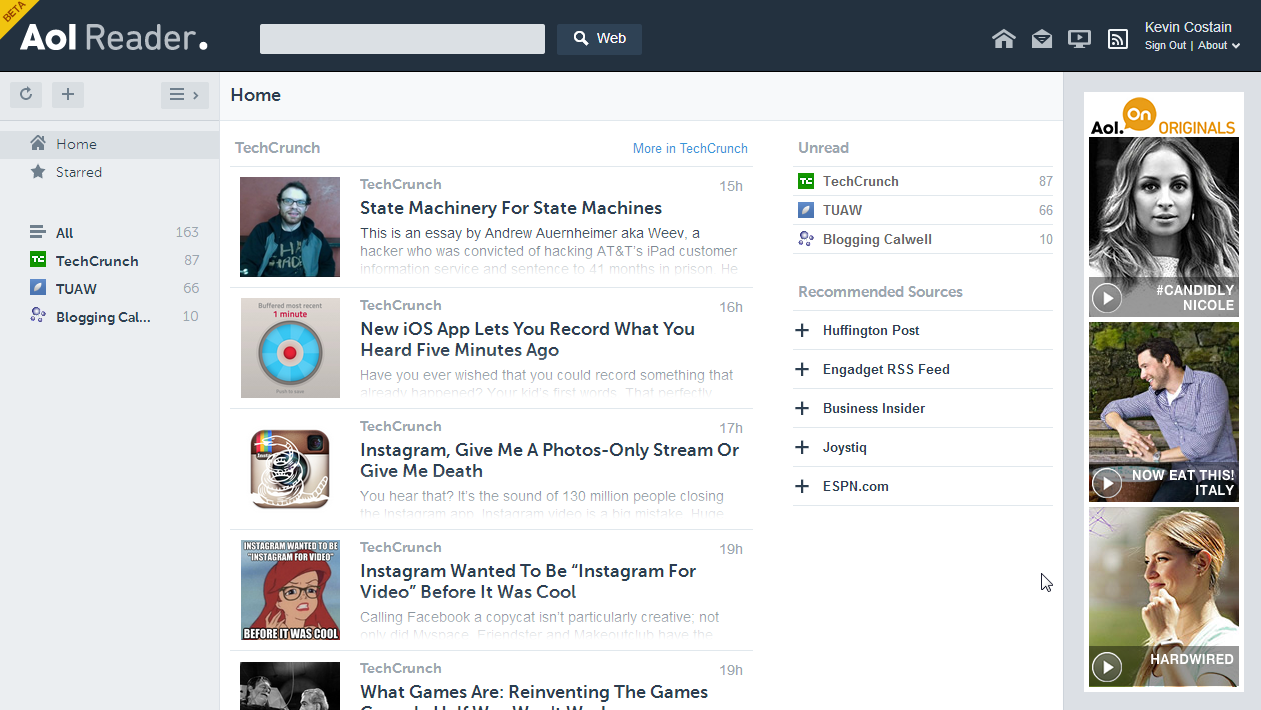 Your first look at a populated interface gives you instant visual cues, especially for those coming off Google Reader. The list of articles is accessed using the navigation menu on the left, the content, in the center. Once you click on a folder or article list, you are presented with an email-like listing of article headlines. Clicking on a headline opens the article content and marks it as read.
AOL also provides a number of keyboard shortcuts similar to what you might expect on Google Reader. "SPACE" opens the next article. "N" highlights the next article. "P" highlights the previous article. "O" opens the article viewer. Clicking on the article's headline brings you to the page in focus.
Update: I consider these keyboard shortcuts "limited" in the sense that some of the basic Google Reader shortcuts are missing (like "V" – though it's there, the article has to be expanded for it to work, the "M" shortcut doesn't appear to work correctly in Chrome). I had hoped for a tool that would improve on what Google offers. Here is a list of current keyboard shortcuts in AOL Reader: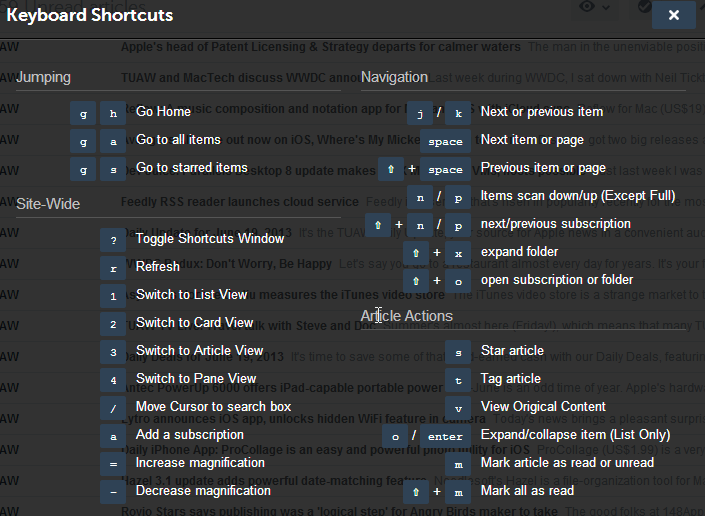 Also of note, AOL Reader supports the ability to star or mark articles as favourites. You might want to do that if you have a long list and want to return later for reading the content.
Other than that, you're looking at a sparse, mostly unpopulated reading space. The tool itself appears wholly capable, working as expected when I navigated through articles and opened and closed interesting content. What appears clear though, is that AOL is not offering an ambitious tool. The keyboard shortcuts are limited. The interface is somewhat fixed. Even the advertising appears to be stuck on the same thing on every refresh. This will no doubt change, but if AOL is going to win over Google Reader users, they're going to need to offer something more than this.
If you've run into tools that you absolutely hate for the forced, pretty interface, you'll be happy to know that AOL Reader won't torture you like that. If only for that reason, this may be something you'll want to check out.
AOL Reader is a web-based RSS Reader. The product is currently in limited Beta. You can gain access to the beta by way of an AOL account or Twitter/Facebook login.