The disappearing HotspotVPN
I've used Virtual Private Networking (VPN) services before, and HotspotVPN was one of the best I'd seen. They had an easy setup, good platform support and seemingly reliable service. VPNs are useful for all sorts of things, and in this case, was great for making your IP address appear to be local in another country. I was happy to pay the $95.75 yearly charge for occasional use of the service. However, when I decided to cancel, the problems started. As it stands now, HotspotVPN has charged me $95.75 for something I didn't want and seems to have fallen off the face of the earth.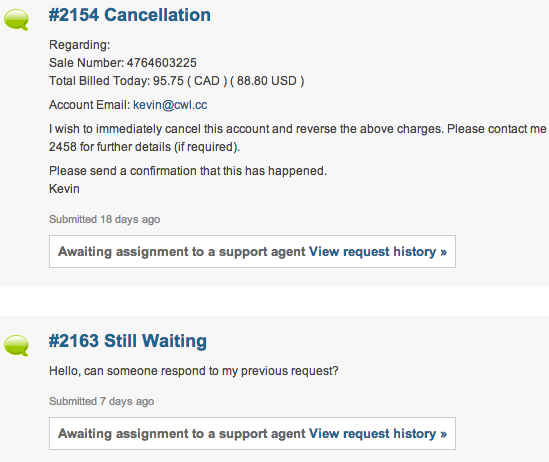 After about 9 months had passed, I had realized I'd no longer needed the VPN. I wasn't using as much as I'd thought. What did not do (like so many things), was go look up when the yearly renewal was due. Stupidly, I was thinking "They'll remind me" before they go and bill me – so I carried on. Fast forward to July 24th, and without warning, and hidden inside an email with the subject "Your 2CO Recurring Sale", HotspotVPN charged my credit card and renewed the service through a billing company named "2 Checkout". No warning of upcoming payment, no chance to think about keeping the service. Just take the money and move on.
I tried to contact HotspotVPN first, and all the contact page listed was a HelpDesk site. No phone numbers, no email addresses. In fact, I started to wonder if Glynn Taylor was a real person. I went to the helpdesk site and asked that they contact me and that I wanted to cancel this account (and reverse the charge). A day passes, and I get zero response.
In the "2 checkouts" email message, a phone number was provided for billing. I called that and stated my case. Naturally, they could stop the next bill, but I was on the hook for the $95.75 until WifiConsulting (HotspotVPN) reversed the charge. That's a great setup if you can do it, surprise people with charges and give them no way to reverse them.
I continued to wait for a response from HotSpotVPN, and still nothing for 18 days. Now, I'm going to have to pursue a reverse of the charges forcefully on the service that was originally billed. It seems unlikely HotspotVPN are going to get back to me.
HotSpotVPN is a US-based VPN service with, apparently, no one at the controls. Use this service at your peril. Has anyone else experienced the same tactics by HotspotVPN?