Thinking Of Running Windows Server 2012 Foundation? You Might Want To Think again.

Microsoft has had an interesting history with creating versions of Windows Server that might fit into different verticals. You might recall the horrible Windows Small Business Server version for an example of how you can't just slap a bunch of products together and make a good product. What Microsoft tends to do is create limits on products that can do more, instead of taking limited products and giving them more options. Nowhere is this more evident than Windows Server 2012 Foundation edition. Read on to see why you might not want to implement this version.
Not only does the licence compliance limit count towards all of your users, but it also counts toward system, IIS, and performance users. On a local system or domain that supports SQL Server and Exchange server, that may end up with at least 15 users before your regular users are counted. For Microsoft to support running the Foundation server as a domain controller, surely they would have known that this could be a possibility. Why would they allow the product to ship under these circumstances without some way to work around this?
For a Foundation Server that is determined to be non-compliant, you'll get one of these two error messages:
"The server does not comply with the End User License Agreement (EULA) because it belongs to a domain that contains more than 15 user accounts."

"The server does not comply with the End User License Agreement (EULA) because it has more than 15 local user accounts."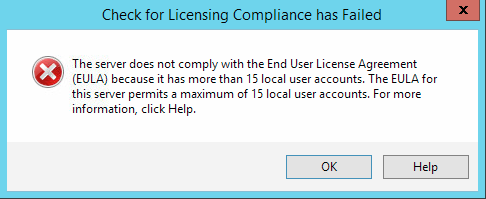 These errors will continue on an endless loop in approximately 15 minute intervals[1] and appear not to be enforced in any specific manner. What I have noticed (in testing) is that, in other cases, the server will intermittently have difficulty checking the license compliance. In this case, it will force the server (or domain services) to shut down. My sense is that this problem connecting is rather conveniently built into the process over time.
If your thinking of Windows Server 2012 Essentials as an option, don't bother. This operating system is also user-limited but to 25 users. Great for an office that might have a simple file server, but once you add any sort of service (and service accounts), you'll reach 25 accounts fast. While there is a better transition point, you will still have to buy another copy of Windows Server to get there.
While the user limit information has been public, what hasn't been clearly stated by Microsoft is how users are calculated, what kind of accounts are counted towards the limit, and providing a way to declassify users that probably don't apply. What's worse, Microsoft doesn't seem to provide a simple utility to list the users that count against this limit. They have a tool that checks regularly, but good luck if you want one to check occasionally.
Then, if you look for an upgrade path, There is none. That's right, you cannot do an in-place upgrade from Windows Server 2012 Foundation to Windows Server 2012 Standard. You might think many of the binaries and the server installation are identical, but Microsoft won't let you do it. Contrast that with Windows Server 2008 R2, which did have an upgrade path, and I wouldn't blame you for thinking they killed this option to remove the hassle of supporting customers. While you're stuck in the mess you created, or you'll have to build a computer (or virtual machine) and migrate to a new domain controller, and possibly reinstall windows on your original server. That's a lot of pain.
I'm often shocked at how some of these things don't raise more of a fervour with administrators. Perhaps most people are leery of Microsoft's promises (and underplaying of limitations) to accept the use of a product at face value. As the case with many of Microsoft's "branded" Windows Server efforts, it's always important to stick with the Standard (or that middle-of-the-road version), even if you don't know the differences.
---
1. That's my un-timed judgement. I could not find an official check interval online.