My Thoughts on Apple's September 2014 Event
Apple events generally need no introduction. This time around, we expect to see quite a few changes, including Apple's eventual move into larger smartphones and wearables. What does Apple have in store, and my thoughts on these new products? If you were one of the unfortunate people watching the live stream, don't worry. This post won't freeze on you or start dubbing words in Chinese over the text.
Briefly: Join me as I go over the details of Apple's most recent event. I'll share my thoughts about the newly introduced products.
Here are some of the rumours and speculation this event drew:
1. The iPhone 6 will be bigger, have a different kind of glass (sapphire), and a protruding camera. Apple may introduce an even larger – higher-end – iPhone. They'll be called "iPhone 6" and "iPhone 6 Plus" respectively
2. The new iPhones will be waterproof or water repellant in some way.
3. A new wearable, possibly called iWatch is expected. This new wearable should somehow connect to the body and provide health details in some manner.
4. Some kind of payment system. This could use NFC (something Apple has thus far avoided), or iBeacon, or some other means. The word is Apple has cut a number of deals to make this happen.
5. Reversible USB cables. I previously mentioned how Apple is on the verge of changing USB cables. Apple could change all cables across their product line today.
6. With the recent celebrity stolen pictures fiasco, Apple may add some sort of security upgrade or mention in the presentation.
7. It's not clear what will become of the iPhone 5c. This product line may not continue.
I had to resist my first impulse; I wanted to rush to the Internets with a regurgitated list of all these Apple announcements. The truth is though, you can get that anyway. But, what is needed more than ever is some clarity about what Apple is about to unleash on us. This feels more appropriate. So, let's look at what Apple announced today.
So, the iPhones
Yes, and as you probably know, Apple announced two new phones: the 4.7″ iPhone 6 and 5.5″ iPhone 6 Plus. Some are calling the larger iPhone the 6P, but I doubt that'll stick. Both phones are bigger and thinner than the 5s and will start pre-sales on September 12th, with a September 19th arrival date.
My thoughts
Just like last year, you probably should wake up at 3 am (EST) the morning of Friday the 12th [1] to get your choice of phone. This time around, I think the biggest ticket phone will be the iPhone 6 Gold – and you probably won't get one if you wait until the sun comes up. For the first time I can remember, the highest-priced iPhone won't be Apple's hottest ticket.
I'm disappointed with some of the physical parts of this phone. Since the 6's edges are rounded, you can no longer rest the phone sideways and take cool arm-less selfies while the phone lies on its side. In fact, the notion of a flat landscape-oriented picture may be gone forever with this new phone. The protruding camera lens is another matter. How can the iPhone 6 sit on a table without scratching the lens? Also, the rumoured reversible USB cables are a clear no-show, proving once again Apple rarely changes standards. This would be the time to back BelayCords on Kickstarter and get something more rugged and usable.
The situation with Apple's unsubsidized pricing is unusual. Last year I bought the iPhone 5s Gold 16GB for $719 unlocked. The pricing for these models across the board was (in Canadian funds):
16 GB: $719 – 32 GB: $819 – 64 GB: $919
This year, Apple is selling the iPhone 6 at the following unsubsidized and unlocked price points;
16 GB: $749 – 64 GB: $859 – 128: $969
Clearly, the prices have gone up, but not in a congruent manner. Apple bumped up the memory on its two higher-end models and increased the price by a reasonable $40 for that bump. The same price bump happens on the 16 GB model, but the amount of memory has stayed the same. Are the 16 GB users subsidizing the 64 and 128 GB users? This made me think that Apple's site had a typo, so I double-checked.


Yep, that's the pricing. And, even worse, iOS 8 and apps are likely to consume more memory with the larger screen, making me think that 16 GB could be the first barely usable iPhone out of the box. In this case, you're almost forced to get the 64 GB model if you want to avoid usability problems. The full line of iPhones now includes the soon-to-be-dead 5c, the 5s and the two 6's.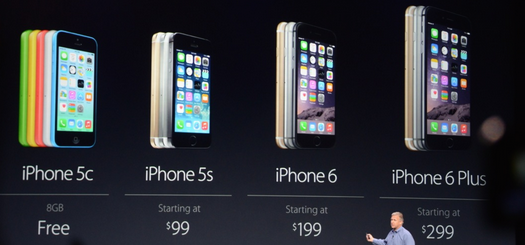 Payments, by Apple
Widely rumoured, this new payment system supports all the major credit card companies [2] and works by touching an iPhone 6 or 6 Plus to a retailer's terminal. The credit card is selected inside of Passbook on the iPhone, and optionally TouchID can be enabled on the transactions. Apple Pay seems to require retailers to have a touchpad of some kind (if they don't have one).

My thoughts
Since this is starting in the U.S. and uses NFC – who have been reportedly lagging in the area of touch payments – I expect the uptake on this to depend on if retailers are willing to get on board. I see no retailer spending cash to build around Apple's infrastructure. So, this may be an impossible venture for Apple. If they were to have built something that uses existing systems better, I would have expected this to be an easy win for Apple.
Not so much in Canada. Expect this to outright fail in Canada. Apple touts the speed gains provided over that of a clumsy credit card payment process. In Canada, we've all but completely moved over to chip or tap technologies like Paypass and Paywave. What's faster: pull out card, tap OR pull out the phone, fumble with touchID to unlock the phone, hunt for Passbook app, find card and fumble again to pay with TouchID. I don't see many Canadians running out to use this. The only way this goes is if this is forced into the market by credit card companies (or naturally, it all works because the tech is what's required).
The first Apple wearable
The Apple Watch was announced. The new device will start at $349 and include all sorts of band options plus three different faces (including one that has actual gold). The watch includes a square screen with sapphire glass, and a version of iOS specifically made for the device. The crown is used as the main navigation and allows for scrolling and zooming. Tim Cook alluded to daily charging but was not specific about battery life.
My thoughts
Let me start with this.
My thoughts on Apple Watch so far —> Meh.

— Kevin Costain @ CWL ?? (@cwl_cc) September 9, 2014
That about sums up my thoughts about this device. For a watch market that Apple completely cannibalized with the iPhone, it seems rather unusual that they would circle back and try to again get people wearing watches. Before the iPhone, this kind of product would be heralded as a huge step forward. Now, it isn't even on par (by the looks of it) with another watch offering like the Moto 360. I still haven't figured out why these companies continue with the watch love affair instead of creating new types of wearables. Make a new market.



The watch is big, shiny and straight. I haven't yet seen a beautiful "smart" watch, and this isn't changing my mind. The charging apparatus (while wireless) requires you to take the watch off [3]. Apple has not been clear exactly how waterproof this watch will be, and I expect it'll just "resistant". For an investment of $349 or more, this watch is nothing but an expensive fashion item, not something of rugged utility that can stay with you for a long time. Perhaps Apple has just created it's first expensive jewelry item for the rich. Yes, the watchbands are pretty.


This all leaves Apple with a large stable of different form factors and devices. They have to be happy with themselves for covering so many different screen sizes. But, I sense (more than ever) that there's trouble in AppleVille. They are losing their symbolic position as the technology affirmer, leaving them only to the catch-up position. More and more, Apple products are looking like they're meant to keep up with new technologies.
---
1. That's into the night of Thursday if you mentally keeping track.
2. Visa, MasterCard and American Express
3. Tim Cook again let it slip that you might charge "every night"