11 Amazing Tips, Tricks and Hacks for iOS 8 and iPhone 6 / Plus
Every time I get a new phone or operating system, it doesn't take much time before I've worked out most things I can (and can't) do. Tucked deep in most systems are really cool things we can do to deal with annoyances and enhance the use of our devices. Here are 11 awesome tips, tricks and hacks I've figured out so far.
Briefly: 11 things (hidden or not) that you can do to enhance your iPhone 6/Plus and iOS experience.
1. If you want to refresh an App Store tab, you can do this by tapping the tab (ie "Featured" ) ten times continuously and the store will refresh. This also works in the iTunes Store, but not the Apple Store app (yet).
2. Readability pulls the top half of your iPhone 6/Plus closer. To do this, double press softly (not click down) the home button.
3. Siri has an "always-on" mode. To enable this, open Settings – General – Siri – Set Allow "Hey Siri" to on. Now, when the phone is plugged into power, you can call out "Hey Siri" and the phone will load the digital assistant and wait for direction. This works even with the phone in sleep mode and the screen off.
4. There is a recycle bin (of sorts). iOS 8 keeps a "Recently Deleted" folder for many things, including pictures and apps. After a specific time frame, these items are deleted.
5. Photos can be hidden (for most places except the album they reside in). Do this by long-tapping on a photo and choose "Hide".
6. Charge faster. The iPhone 6/Plus supports the better 2.1 amp iPad charger. Couple this faster charger with the trick of placing your phone into airport mode might just charge your phone fully in the time it takes to have a shower.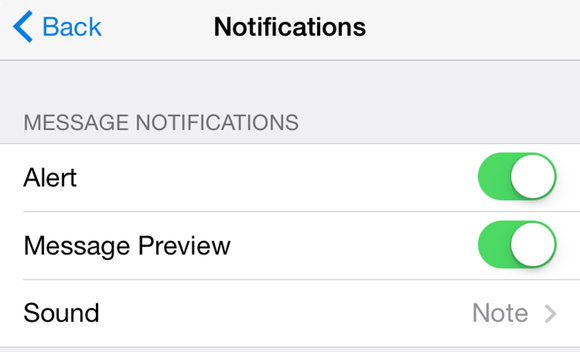 7. Keep messages private. In a perfect world, your phone will notify you, but not blurt out a possibly sensitive message in the notification area. To achieve this perfect balance, set the app to Notify, and show on the lock screen. I generally turn off unlocked alerts. Then go into the app's settings and find its notification settings. If the app is a good iOS citizen, it will let you turn off "Message Previews". Currently, apps like Talko and BBM do not support this, so let's bug them!
8. Medical ID is a very useful feature for those with possible medical problems. These details can be set up in the Heath pp under "Medical ID". In an emergency, get to it from a phone's lock screen by swiping right (if a password is enabled), choosing "Emergency" and clicking "* Medical ID".
9. iCloud keychain can be a pain when connecting to free wifi networks (that use custom portals). In these cases, your Mac will save the connection, and then the iPhone will also automatically connect, rendering the iPhone disconnected until it opens the portal. If you forget the network on your iPhone, the computer will need to manually connect again. A pain. To get around this, you can manually disable the Wi-Fi from iOS 8's quick settings menu (when you know Wi-Fi is not needed). Apple really needs to add some granularity to Wi-Fi setting in iOS to account for daily use.
10. Find My Phone has a cool new feature, it will send the last location of your phone when the battery is critically low. Perfect for those extended periods of phone loss. No need to worry that the phone has died and given up. This setting appears to be off by default.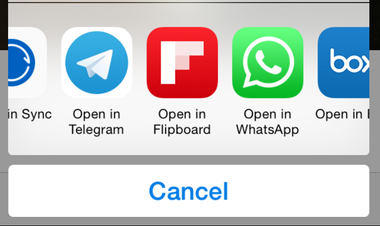 11. Send photos TO the app. If you've ever used Android, you know that it makes much more sense to work with photos and then send them to an app (instead of going to the app and pulling a photo). This is possible, but support for it is still very limited. To do this, find what you want to share (A photo in Dropbox for example), click on the "Share" icon and choose "Open in.." from the bottom row of icons. If your app is listed (Whatsapp and Telegram support this), you can send this image right into an active chat session. Let's hope Apple adds this kind of support to the base Photos app.
The iPhone 6 and iPhone 6 Plus are currently available from Apple. iOS 8.02 is the current mobile operating system on these (and other i-devices).