First Look: Upgrading the USB Cable With BelayCords
Backing Kickstarter projects can be iffy at best. I learned that when backing The FreedMan Chair in late October of 2013. Now 527 days later, the project has yet to materialize, though they are close. The benefit of backing smaller projects appears to be how much faster they can turn a pledge into a real product. This was the case with BelayCords; A USB cable replacement for the stock Apple cable (with support for others too). With a pledge date of September 9th, 2014, the BelayCords I ordered took 210 days to arrive.
When first opening the requested sparse packaging, I was impressed at the weight and feel of these cables. There is not flimsiness in any part of them. Each cable feels like it's really been constructed well. The woven feel of the outer jacket, plus a very rigid structure to the cable itself – give the BelayCords some serious heft. There's definitely something in the cable that keeps it from falling out flat, and that's probably going to bode well for the future. So far, so good.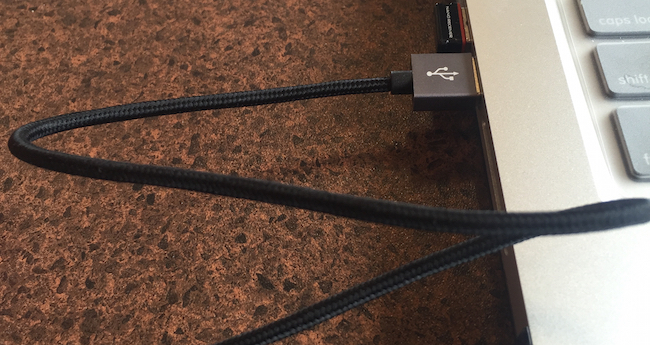 Length is more than adequate in the standard size, though the makers offer longer versions. In fact, I rarely found myself needing extra length – so I'm glad I opted out of that. Delivering on a promise, the folks at BelayCords appeared to take fraying the ends of these cables seriously. The jacket is strong, the ends are clearly protected, and the connector appears able to handle some serious abuse.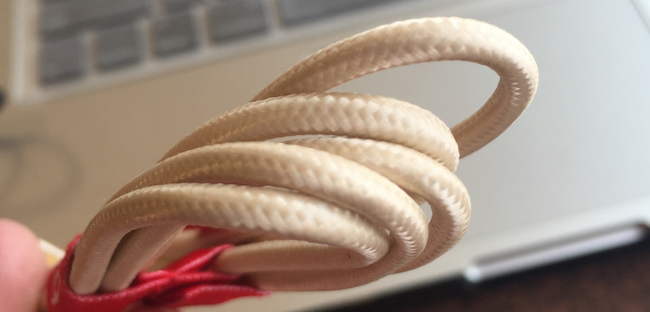 As probably the biggest selling feature here, the reversible USB works as expected without fail. It's a nice bit of engineering that I wonder why all USB cables had. Naturally, with USB-C on the horizon, the real need to push stuff into reversible USB is probably now moot. It's always a challenge with changing standards too; Just how long is Apple going to go before switching their mobile devices to USB-C? In the process of plugging and unplugging numerous times, I have yet to come across a "This accessory is not supported" message.
The wrap and magnetic latching mechanism is a nice small touch. When the cable is extended, the wrap is still attached, so it has a tendency to flap around or the magnet might latch on to something metal in the area. To avoid this, I just wrap the extended cable and fasten it to itself. But, there were problems with this nifty design.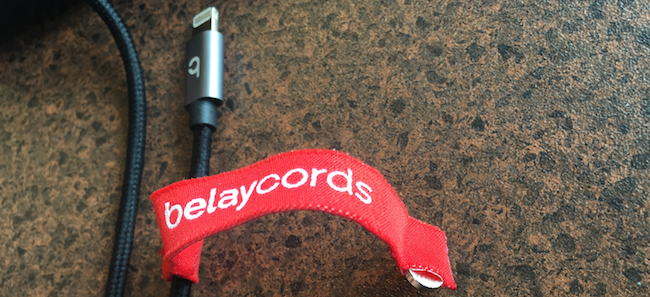 After using the fastener on my black BelayCords a few times, the magnetic piece came loose (and out of) its housing. This happened barely a few hours after starting to use my black BelayCord. Since this magnet is so small, if I didn't see it falling out, I would've easily given it up to the ether. To fix this problem, I pulled out a sewing kit. I'm not the best with a needle, so let's hope my attempt at sewing holds the little round magnet in place. My gold BelayCords fastener appeared to be fine, though I'm not sure if this will also come loose. If this is a more prevalent issue – the folks at Made In College will have to do something.
I like what I see so far. The product is simple and elegant. The strength of the cable is clearly apparent. Reversible USB is a real winner for this product. Only time will tell if this cable holds up to daily use, but the outlook is positive. I'll use these guys for a while and come back to let you know.
BelayCords is a KickStarter-funded reversible USB cable. They're meant to replace the stock USB cable of your iPhone, Blackberry, Android, and other devices. BelayCords are now available in 1.2 metre and 2-metre lengths and various colours.
Update, December 14, 2015: It appears as though it's time to hold off on the celebration. My experience with these cords (and BelayCords in general) has been less than satisfactory.
The first problem came when using my black cord on a trip. Exerting a small amount of pressure on the tip of the lightning connector caused the entire thing to break off. Thankfully, the tip was far enough out that I could get it out of my phone. What I was left with was a useless BelayCord cable.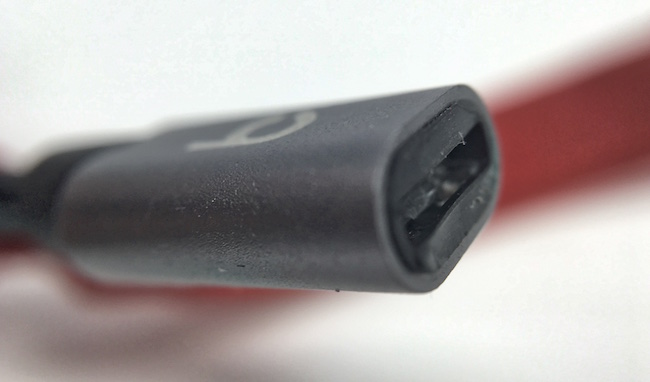 So, I started warranty proceedings on that cable and had yet to send it in when on my second cable problems started. Whenever I would plug the second cable into a power source (such as a mobile battery), the cable did charge my iPhone. When plugging it into a computer, the cable worked fine. I then moved the cable to an Apple charger; It worked. This sort of spotty and unreliable performance meant I haven't been able to take this cable on trips either. Here's a look at my charging woes:
At this point, I may be left with two (mostly) unusable cables. They have been lacking in quality from the beginning, so I just sent them both back. Let's hope they can return at least one working one! Has anyone else had problems with BelayCords?