The Devil You Know: Facebook Instant Articles
As a publisher of multiple sites (and a reader, no less), I'm keenly aware of the struggle faced by the need to reach users, but the cost of doing it. If what we do doesn't somehow lead back to our site, is this something we could ever embrace? With the recent announcement of Facebook Instant Articles, I've been thinking about this more. Is this a great development for publishers, or the start of a new, dangerous path for Facebook?
If you want to see more about the product, check out Facebook's Blog, and to see a live demo of these articles, search for "instant articles" inside the Facebook app on an iPhone. Links to enhanced articles appear as rectangular screens; almost of them could be videos with a text overlay. This is a departure from the typical Facebook link sharing – where a snippet of text usually accompanies a link (often to confusing results). And, this only works in the app, so don't try it in a mobile web browser, where the link will just be show link any other on Facebook.
Why doesn't Facebook just add tags on top of the open graph protocol to feed them the parts of an article they can preload? I think that's a great question. And really, if you're wondering this, you probably aren't aware that Facebook wants to become a news and publishing powerhouse. Since so many people are already on Facebook, they don't want to drive them away from the site for any reason. So, instead of going out to preload your site and cache it, they want you to insert your content in their systems.
Following the money is key here. Details on this aren't completely fleshed out, but Facebook is letting publishers keep 100% of the ads sold on sites, and will take 30% of the internal ads displayed from its Audience Network platform. Naturally, for Facebook over time, then move to emphasize its own ads over others will be what proves Facebook's ultimate motivator. In addition, Instant Articles should fully support full Google Analytics, which should be important to publishers.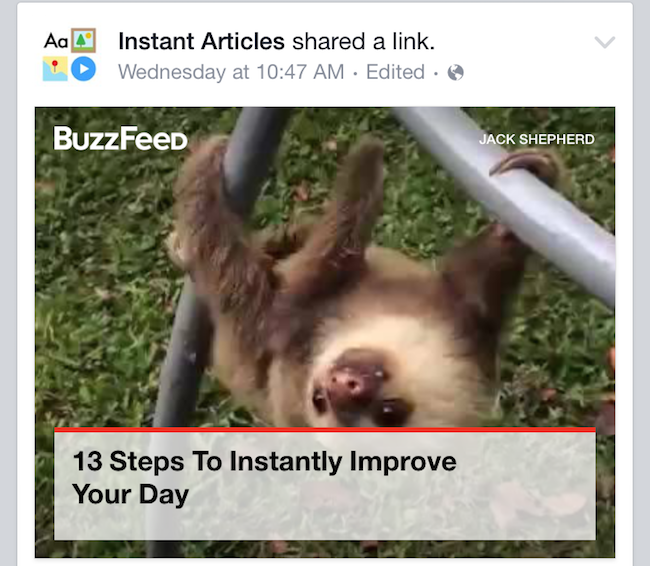 I like the speed. Active content displays beautifully, if not slightly jarring with large format images. Mobile browsers still suck for displaying websites, and Facebook appears keenly aware of this. But, one wonders if Facebook is shrewdly picking its spot to get publishers hooked on a drug (not the only speed), only to have their way with them later. I can see the sitcom catchphrase now "But silly! Facebook just wants to make money!".
The clear implications here are that publishers will have to play by Facebook's rules. They've previously shown with their newsfeed sorting algorithm, that the priority is content that makes them money, and for most publishers that goodwill should have been all but destroyed now. As a smaller publisher of content, following these rules will ultimately eat into whatever small budget you may already have.
I'm incredibly skeptical of this move, though I can see why larger publishers may jump on it as a means of enhancing user experience. The trade-off for larger outfits is far less painful than small ones who struggle to stay above the fold. I would not be pleased to hear that this becomes a blogging standard. Though, I think Facebook has a real option to actually allow full blogs on its platform (now that long-form posts are possible).
Facebook's Instant Articles are currently in testing and should start rolling out sometime this year.