Screwing Up My First Uber Ride in Toronto
I had been curious about the service for some time. Since I'm a driver, I didn't really have a reason, nor did I have a chance to try a service that is courting significant controversy lately. Well, on an emergency client call, instead of walking, I forced myself to try the service.
Requesting an Uber was quite simple. Open the app, and tell it where you are (GPS driven), and where you want to go. In that, you'll see a slider that shows several different types of Uber. With your choice of Uber, you're given a price range for that ride. Simple, right? Well,  the Uber app does nothing to explain all of the kinds of choices you have. In all, you can choose from:
Uberx
UberXL
UberSELECT
UberBlack Car
UberBlack SUV
UberTaxi
UberTaxi Uberaccess
What the hell are all these choices? Sure, you could go over all these options on the Uber website, but should it be this difficult to know what you're getting? Naturally, the differences relate to the size of the vehicle, type of vehicle and possibly other factors, but at the moment I didn't know what they were and chose wrong.
I intended to request an UberX, presuming this was the lower-cost option (it was all needed, and the slider was all the way to the left). What I did not realize, was that it was an UberXL (more expensive).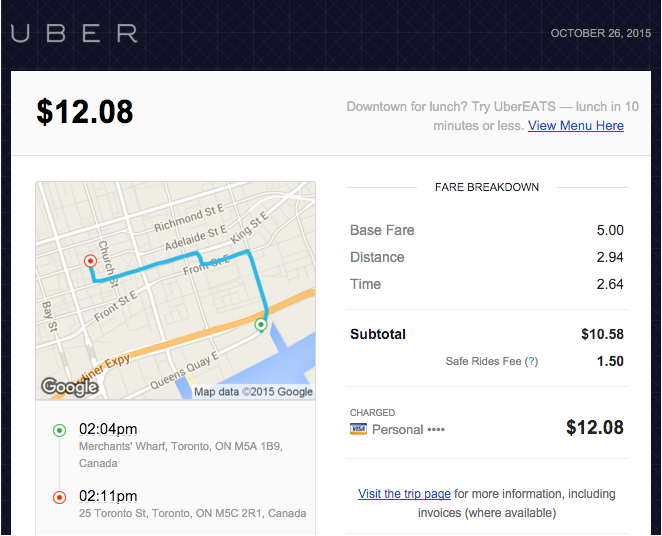 As you might expect, at first blush this seems costly for a roughly 3 km trip. I don't recall what cabs cost today, but my sense is not that much. When I went back over this later and estimated the same trip in an UberX, it would have cost $6-$8, or roughly have of the price. A stupid mistake on my part, but not terribly costly.
The driver, Naeem was very cool and inviting. He made my first Uber trip smooth and informative. He was happy to sate my curiosity about all things Uber, even the more controversial subject about Taxis in Toronto, and Naeem handled it like a champ with a positive attitude. I imagine Uber drivers are under some fairly constant attack for disrupting the status quo (of Taxis), and so I appreciate Naeem's courtesy.
So, while my experience was a positive one, the ease of choosing the wrong type of Uber is troubling, especially for those new to the service. The system did nothing to inform me of possible choices or match the right Uber to my needs. Let's not talk about better explaining the myriad of choices. Also, since all of the bill is paid via credit card, how is tipping handled on an Uber? Do I tip the driver directly?
I'll ride Uber again, and notwithstanding my stupid mistakes, the service is stellar and worthy of the disruption it's causing to the Toronto taxi system.