Strangely, The Leef iBridge Destroys Your Files [And a Fix]
The one thing a product that stores data should never do is to destroy it. Sure, there may be other smaller issues, but I was surprised to learn that a Leef iBridge 64GB device I tested actively destroyed data while in use. How could this not be a bigger story on the Internets? I even attempted to fish through Amazon comments, but still found no one with an issue like this. 
Since this is only a single test of the 64GB variety, I'm hoping some of your readers might be able to test the scenario I describe and report back in the comments. I have tested several versions up to 2.0.7. Naturally, be very careful with your data. Before this article published, I contacted the company via Twitter to see if they had seen this before, or had any thoughts about this problem. I even went as far as building a test to replicate this scenario.
Here's how you test it:
Connect the iBridge to your iPhone and open the MobileMemory App
Tap on Transfer Files -> Copy from iBridge to iPhone
 Copy some images, I would suggest at least three
Wait until the copy ends and remove the iBridge device physically
Reinsert the iBridge and open the MobileMemory App
Find Transfer File -> File Manage and the iBridge photos directory to see the file sizes next to your photos. Here's a before and after for me:
Visually, it looks like this: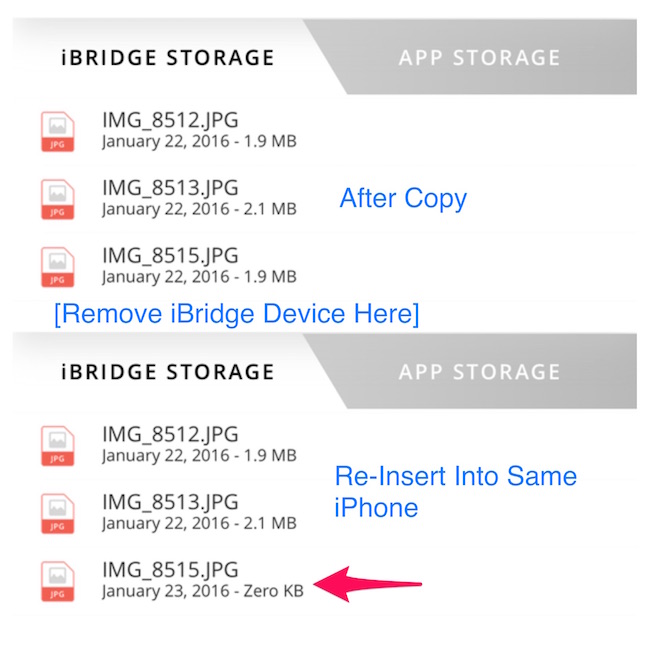 Yes, that "Zero KB" file is gone. Wiped. History. No matter what device you place your iBridge into, that picture is lost. If you had decided to "Move" pictures to your iBridge, you just deleted one of them. That's a serious problem.
Not to leave it at this though, I contacted Leef and received no response for weeks. Then, their response was to not read my tweets and ask me to contact them again. Huh? Hello automated robot. For me, I kept driving for an answer, and I found one. Here's a reasonable workaround that saves me from losing data:
Connect the iBridge to your iPhone and open the MobileMemory App
Tap on Transfer Files -> Copy from iBridge to iPhone
Copy some images
Wait until the copy ends and find a file you can delete (*)
Delete that file while still in the app and let it finish
You can now remove the iBridge and no files will have been zeroed
* One great trick is to have a bunch of dummy text files in a folder and go delete them one at a time. They won't use space, and you won't lose data.
What's going on here? It seems clear that the App's interface says it has finished a copy operation, but it hasn't. Since the user thinks the copy/move is done (but it isn't really) – physical removal risks killing the process (and a file). On-screen there is no indication of this possible danger.
What did Leef do about it?
Not much, it turns out. I first tweeted about this problem, and it took them to respond. When they responded, it appeared they disregarded the two tweets describing the issue and directed me into their help desk system. I attempted to be simple and clear about what was going on, but their responses seemed more canned, not actually something directly at me.
Updates to the iBridge app may remove this problem, let's hope this happens sooner, not later. I will test new versions and let you know what I find.
Leef has responded. Just a day after this post, they sent a tweet saying they were working on it:
@cwl_cc Hello, our developers are working on resolving this caching issue in the next app update.

— Leef USA (@Leef_USA) February 18, 2016
Good news indeed. I'll test this update and let you know if the problem was resolved. Perhaps Leef could also explain how this kind of data sloppiness could pass their quality control.
Welp, we have an Update for Feb 25, 2016
Today I noticed a new version of MobileMemory – this time version 2.0.8. It included the following stated changes:
– Added support for.MTS files
– Stability improvements for iAccess users
– Various bug fixes
So, was the destruction of data one of those above bug fixes? No. Here's what happens when I run the same process I outlined in this article (in a screenshot).

Let's hope they're still working on it, or perhaps another bug fix is one the way.
iBridge updated to 2.0.9 recently and finally fixed this issue. Nice to see them also point out the fix in the app release notes (see below).  At about two months to fix the issue, this doesn't exactly make Leef very responsive, but they did fix it. Later this week, I managed to get an iPad Air to test the iBridge and guess what – it didn't even work at all.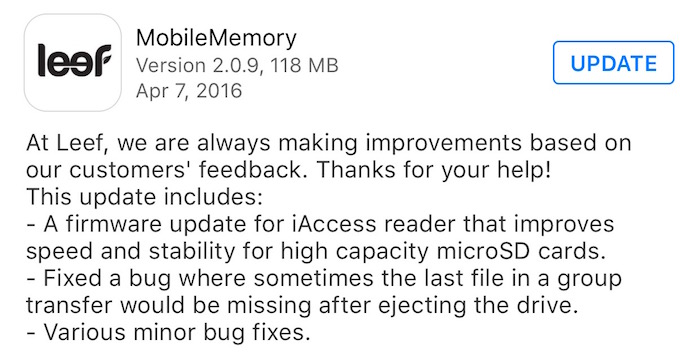 I think it's safe to say, this is a product to skip. 1
---
Or at least buy it from a store that is flexible with returns. Test it thoroughly on your device. ↩