Reviewing the PeakDesign Messenger Bag
As someone who works in I.T., but is also into photography, I rely on bags for everything. Most cheap bags (hasn't everyone had an APC bag in I.T.?) are great for storing laptops but aren't so great at photography gear. Camera bags too are often not meant for computer gear. Well, thanks to some good fortune, I came across PeakDesign and their EveryDay Messenger bag. Frankly, it was a challenge to tell if this was going to be great at what I needed until I bought the thing, so hopefully, if this is on your mind, I can help. Here are my thoughts on this bag.
The Stuff I Love
The MagLatch: Often "attention to detail" is a catchphrase, but on this bag, it's easy to say that. The front flap buckle or MagLatch seemingly attaches to the bag at will. When any upwards force happens, the latch clips in. But, when the latch is not clipped, there's a cool magnet clasp that keeps the bag closed just in case. The latch sometimes seizes up in a pull, but for the most part, this thing is an ingenious way to have a bag close cleanly every time.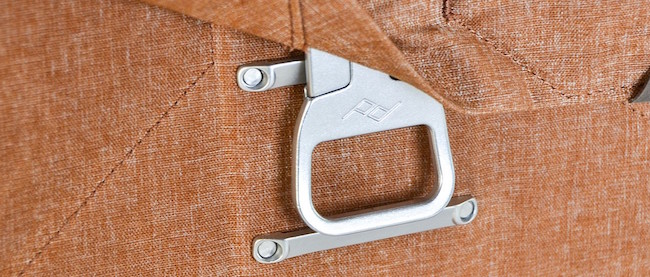 The Service: Wow, the service. When I found myself with a broken laptop pocket zipper, my hunt for help lead me to PeakDesign's website; and it was amazing. I was able to send a message and a photo with my iPhone. They replied quickly and sent a replacement bag right away. I can't say enough good about how well they handle this process. If companies are judged by all the bad service, great service like this should also get attention too.
The Origami Dividers: I don't use them a lot, but they are really amazing at keeping my camera and other stuff separate and easy to get to. Every time I reach into the bag, I'm thinking of new ways to use these great little dividers.
The Tripod Holder: This bag is so amazing as a camera bag. But, under the main flap, there's a notch to slide one of your tripod legs into. With the included rubber leg strap (seen below), your tripod is held safely and snugly there. It took me a little while to get this right; the first time I went without the rubber holder while riding a bike and the tripod was flying all over – so save yourself my mistake and find that rubber thing in your flap pocket and use it.

The Stuff I Don't Like
The zippers: I've mentioned how the laptop pocket's zipper had become unhinged, but I have yet to understand how that happened. As such, I treat all zippers on this bag very, very carefully. My working theory is that I didn't open the laptop pocket fully, pulled out my 15″ laptop quickly; and the zipper popped. Maybe.
The zippers are made to be weather-resistant, so they were clearly thinking about the design. It does seem possible the metal used for the clamp might be too weak.
The Shoulder Strap Latches: These look beautiful, but they function poorly at times. When I pick up the bag (and the strap is twisted), untwisting the strap also pulls this latch loose. What happens next is generally a catastrophic drop of the bag (with all contents – camera and laptop), or I can catch it as one end of the strap tumbles off my shoulder. This has happened three times so far and forces me to be more careful. Thankfully I haven't yet had my laptop destroyed.

The Extra Stuff
The Capture Clip: I went ahead and also bought a capture clip. The combination of this bag and the clip is very cool, if not a bit nerve-racking. As you move, the clip tends to come loose, and with a camera clipped in, I'm always a bit worried the camera will fall out. I tended to check every few seconds to make sure all was good. I'm not sure I'd risk it with this clip and a telephoto lens out on the road.
The sum of all these parts adds up to a seriously fantastic daily use bag. I make an effort to carry as little as possible, but when I do need to load up the bag in South America or Cuba, the Messenger is more than capable. The product and the company are a winner, and given the array of new bags they're offering on Kickstarter, they probably have the kind of bag you want. Granted, this bag is not cheap, but for the quality of what you get, I feel it's a worthy investment for those looking to step up their "bag game".
I was so close to going after that sling in the Kickstarter (but held off). If you'd like this bag too, you're really going to like my newsletter.