Apple's September 2017 Event
Today, Apple's event heralded a number of firsts. The first to happen that the Steve Jobs Theatre. The first to be almost completely spoiled by leaks, and the first to introduce a phone starting at $999US. Apple was also expected to do but things in augmented reality and include wireless charging. I watched the event and here are my thoughts on what's coming with Apple. 
Here are the major announcements today at the event as they appeared in the live stream:
Town Squares
Apple will start a new concept called a "Town Square". The idea is to have people hang around and learn stuff. Given the number of people I see go through Apple stores, crowd control and space will definitely be an issue. But, I like the idea. The more people interact with new stuff, the more likely they'd be to buy more stuff. "Apple's retail purpose has always been to enrich lives" (Groan)
Apple Watch Series 3 (Pre-Order Sept 15, shipping: sept 22) :
:- Now cellular built-in, your number is the same number
:- Streaming songs on the wrist is possible with the cellular connection on the Watch
:- Siri is now talking from the Watch
:- More sensors (altimeter)
:- The display is an antenna
:- The SIM is an electronic SIM (only Bell)
:- The case for series 3 is the same size as series 2
Apple says its watch is the #1 watch in the world, but it's not clear by what metric. #1 over Rolex, a luxury watchmaker was mentioned, and it seems like that kind of comparison is apples to oranges. The video with folks reading about how they use the Apple Watch was amazing. The production value here is incredible. They really know how to tug at our heartstrings.
Other New stuff: WatchOS 4 (released Sept 19th) includes lots of new features. The heart rate sensor will now be more integrated. More details about the heart and elevated heart rate (could this be a data-gathering gambit?). All of this really converges to predictions about possible heart failures.
Apple TV 4K (Pre-Order Set 15, Ships Sept 22)
;- New higher resolution, now using HDR 10 to improve colour
;- UI is in 4K
:- A10X CPU
;- Apple TV will be available in Canada later this month
;- Live sport will be added to Apple TV with score data
;- Live news also
iPhone 8 regular and Plus ($699 , $799 Pre-Order Set 15, Ships Sept 22)
– iOS 11 upgrade Sept 19th
;- Glas on front and back (like the iPhone 4?)
;- Silver, Space Gray, Gold colours
;- Retina HD display
;- 3D Touch is inside the display
;- New stereo speakers
;- New chip name, the A11 "Bionic"
;- Camera is 12MP, stabilization
;- (Plus) includes 12MP and different apertures
;- Better low-light features (as usual) and better bokeh (Plus)
;- (Plus) Portrait lighting, uses machine learning to better light portraits, will be in beta
;- Video: Does 4k 60fps or 1080pm 240fps
;- Augmented Reality: deep integration for these features and ARKit, new sensors
;- Wireless: LTE Advanced, BT 5.0
;- Wireless Charging (using the glass back) using Qi wireless standard
iPhone X "Ten" ($999 Pre-Order Oct 27, Ships Nov 3)
;- Edge to Edge display
;- Glass on both front and back
;- Water-resistant
;- Camera is 12MP, dual stabilization
:- The portrait mode is possible using the frontside camera
:- Super Retina Display (5.8′) 2436 x 1135 OLED
:- Tap on the screen to wake the phone
:- No home button, swipe up from the bottom (like a Blackberry 10)
:- FaceID: Unlock by looking at it. Based on TrueDepth Camera system and detects face with a local neural engine. On-Device processing.
:- Emoji updates let you create Animojis controlled with your face
:- Battery last two more hours than the iPhone 7
;- Wireless: LTE Advanced, BT 5.0
;- Wireless Charging (using the glass back) using Qi wireless standard
Interestingly, FaceID appeared to fail on-stage. After another try, the presenter managed to get it working. Was it real? It may not have been so they could show off the feature, showing they have a lot of work to do before this is ready.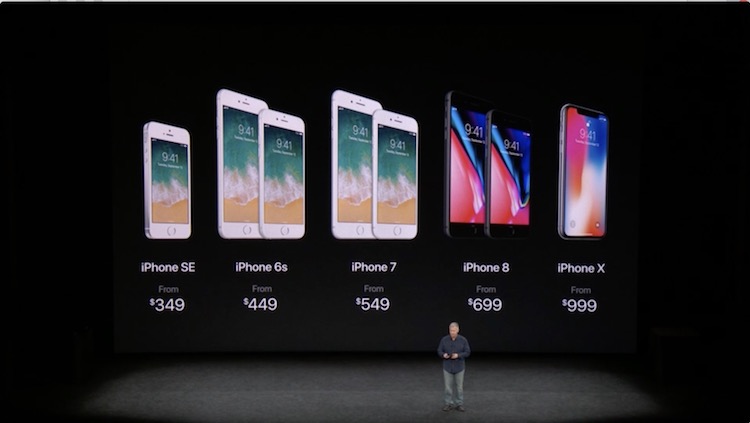 A new charging mat named AirPower and a new AirPods charging case will come sometime next year as Apple seems intent on pushing the Qi wireless standard for charging.
I'm perhaps most curious about how low-key Apple was about the advancements in the iPhone 8. Given all this attention on the X, the 8's sales are probably going to take a hit with those who can wait. Then, if supply problems happen with the X, how many will be left with month-long shipping times for the 8? This could turn out to be a real egg-in-the-face for Apple in the long run.
And what will happen next year? Will we see an iPhone 9 and a Xs? Then the "new" X and the 11 a year later? Apple is, yet again, backing itself into a naming corner, but I'm sure they don't care.
For those waiting for the X, it's going to be unusual sitting on your hands until the end of Oct to pre-order. I wonder how many will give up and order the iPhone 8 just out of impatience.