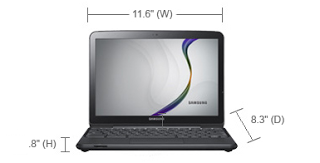 Opening the box, this Chromebook felt very light. So light that in some ways the screen and body felt almost too plastic. The screen itself is bright, but very thin and some may think this is too flimsy. The keyboard is nice, large and feels great when typing. I didn't find myself accidentally hitting buttons and causing issues and the trackpad stayed out of the way (for the most part). The included USB port was useful for adding a wireless mouse to the mix and detected the Microsoft Wireless Mobile Mouse 3500 I tested without issue.
Truly, this is a Google ecosystem device – so you'll find better integration and power when you use a Google account (on Apps or merely just a free Gmail account). Other options for mail access are possible, however, the integration you should expect is little more than accessing web mail. In the future, I'd like to see every mail provider offer an HTML5 web mail interface – making the ChromeBook a great option for that future.
With a Chromebook Series 5 in hand, it's time to test and review this new and intriguing option from Google's engineers – here's what I thought of it.