Understanding The MLSE Purchase By Rogers and Bell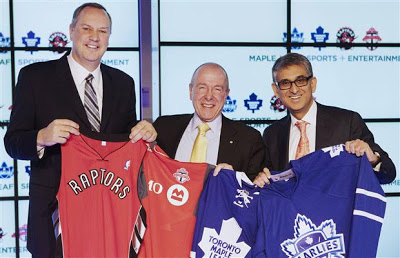 Photograph by: MARK BLINCH, REUTERS
I generally tend to avoid commenting on, or speaking about anything Rogers-related on this blog (for obvious reasons). But, the recent news about Rogers and Bell purchasing an ownership stake in Maple Leaf Sports and Entertainment has a considerable amount of folks buzzing. I thought I would throw my two cents into the mix. I didn't want to do this too soon either – having some clarity on the subject would go a long way.
So, if you hadn't heard yet, Ontario Teachers' Pension Plan sold it's roughly 80% stake in Maple Leaf Sports and Entertainment to BCE Inc., and Rogers Communications Inc. for $1.32-billion. They will both share in the purchase price. This deal is expected to be finalized in the summer of 2012. This deal came together extremely fast – as recently as in the last month (report).
MLSE owns Toronto Maple Leafs, Toronto Marlies, Toronto Raptors, Toronto FC, and the Air Canada Centre, the Leafs TV station and a few more properties.
Why would Bell and Rogers get into bed with each other? The clear wisdom on this relates more to a game of chess than a real push for ownership. This deal keeps Bell and Rogers from gaining more than 50% stake (controlling interest) in the various properties involved. Given something like that happening, the other company would clearly be devastated. Or, so they say. The MLSE properties are a clear cash-cow right now.
So, is the prevailing wisdom that "Rogers and Bell want to cut each other's throat." as CBC says? Are these two companies going to be in constant deadlock over issues that will require Tanenbaum to get involved with his 25% stake in MLSE? I don't think so at all. I expect that Bell and Rogers are going to be mostly hands-off, being content to rake in the cash from these properties for the foreseeable future. I do see Tanenbaum being more involved now that he's been given a 2%+ bump in ownership.
What is universal, however, is the hate and general malaise anyone with a voice has for this deal. There is the Vancouver Sun's Mark Sutcliffe who says "This was a business deal and nothing more". Scott Burnside and Pierre LeBrun say that this deal will have little or no effect on the product. Erick Duhatsheck of the Globe and Mail says in his blog: "ultimately, they [Rogers/Bel] will have no impact on how the Leafs' on-ice fortunes". James Christie of the Globe says what he thinks right in the headline of his article: MLSE deal is bad news for sports fans. The Star's Ellen Roseman wrote about Bell and Rogers having "Too Much Power". Over at the Sun property Canoe.ca, Steve Simmons says Nothing in MLSE deal for Toronto fans. Canadian Business, on the other hand, looks at the deal in the most neutral of ways. Blogger and TV producer Howard Bernstein says "…this is a very frightening deal" and that "This concentration of power will be bad for everyone" as he talks about the monopolistic implications of this purchase. And, of course, the Competition Bureau in Ottawa (did you know there was a Competition Bureau?) will be investigating this takeover.
The reaction on Twitter was often tongue-in-cheek:


The clear losers in this deal? The obvious would be the fans. With reference to the Leafs, the fans have been losing for some 40 years. But, another loser in this deal will be the CBC. A corporation loosing grip of an institution that is so clearly linked to (Hockey night in Canada broadcasts most Leaf games that happen on Saturdays – 24 games in total). With the ownership change, it's quite likely that MLSE will hike the rights to broadcast games (rights are apparently up for renewal in 2014).  Will this spell the end of Hockey Night in Canada? I feel it's at least a possibility.
This is also in line with what Ted Rogers might have gone after in his time. Perhaps Ted would have managed to wrangle a more than 50% stake in the company, but this is clearly the kind of thing Ted was known for – being instrumental in gaining ownership of the Blue Jays in years past. This is not the legacy of Nadir Mohammed we're seeing unfold. The clear future here for Rogers is possibly owning a stake of the Argos and/or bringing an NFL franchise to Toronto. Under all of this is the control of content and media distribution with all of Canada's richest sports teams.