Consulting: Is A Technology Certification Worth it?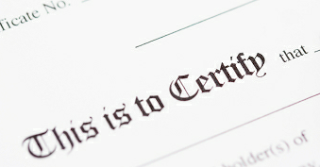 You have the choice of Microsoft's MCSE or MCTS Certifications, there are the CCNA and CCIE or the CompTIA A+ or Network+ certifications. With so many of these around and time time and money required to complete them, you might wonder what's the best use of your time. I don't see it as prevalent now as it was ten to twelve years ago, but many in the IT industry still ask me "Is an IT certification worth the time and money?". I wanted to look at this idea of becoming certified and if it's worthwhile as an IT Consultant. (Disclosure: I'm an MCSE in the NT 4.0 track, I have not upgraded since).
Back in the nineties (when I spent a great deal of time pursuing my own MCSE) the certification industry was booming. There were schools popping up everywhere and it was clear that many thought certifications were a great path when going after an amazing job. I have come across many people with MSCE, CCN, CCIE, and many other initials after their name on a business card. This almost became a cultural movement of sorts – where the prospective IT person is sucked into the vortex of constant trade shows, events and certification upgrades. I think most of these folks need to hop off this train, especially if they're interested in being self employed IT Consultants.
Let me say one thing first; the argument that a certification is great for showing initiative, upgrading your skills and getting a promotion does have merit. I'm sure that, in a large corporate setting, having a certification can set you apart from others and possibly get you closer to a promotion. Also, working in a larger company requires that you deal with human resources folks, who may just be looking for a certification to validate something about you (or, well, these days the opposite). There is no question that if you have the time, a certification can be politically advantageous to you. But, reality does have to set in. Many people are being laid off from jobs they've had for decades and, with certification in hand, are being  forced to face a new reality.
Time is Money
That's one thing you'll learn very fast when you go into business for yourself. It will be incredibly difficult for you to do night classes or full-time gigs towards a certification and still service your customers. Even worse, you'll find it next-to-impossible to focus on something like studying for a test while your customers await answers to issues. Depending on how busy you are, pursuing a certification may actually cost you much more in terms of lost business. And, to be fair, many schools are recognizing this fact and offering al sorts of flexible options for skill upgrading.
Trade Shows are Veiled Marketing
You may decide schools are not for you and upgrading your skills at trade shows and seminars is an option. In my experience, trade shows tend to be a way for companies to market products. You'll have allot to learn in a general sense, but don't expect a comprehensive upgrading of your knowledge in a trade show environment. In general, I loathe trade shows, but if you have a specific interest or set of questions, you may find others that will be receptive to speaking with you.
Move Fast
All this is underscored by how truly fast the IT Consulting industry moves. In many respects, you can't easily predict the kinds of skills you'll need in the future. That certification you achieved for Novell's operating system may not serve you so well, but the basics you gained will live on in other ways. One of the bigger lessons I've learned about technology is that you have to move with it – don't let it dictate what you do. Look to new technologies with an eye to understanding and then move on. In this business, it's hard to tell how the work will manifest itself.
The work will continue, and the challenge as a consultant will be to set your company apart from others. As an individual, your accomplishments should be less and less about you and more about what makes the company unique. Looking for the right people to bring into your company will be based more on how they fit than how many certifications they might have