Test Run: Ubiquiti's UniFi WiFi System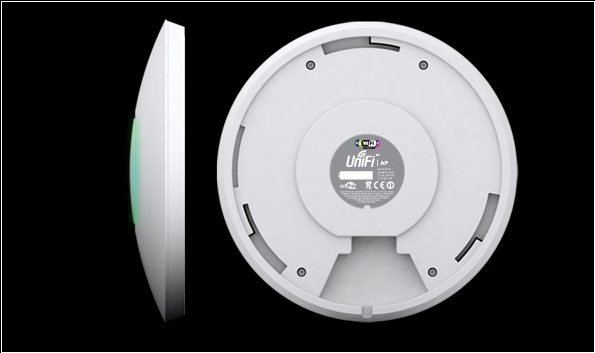 Things are changing for companies with networks. When previously, a good reliable cabled network was enough to meet the needs of most users – users requiring wireless (or WiFi) access are exploding. Every single new smart phone and tablet device sold today includes WiFi support and Apple has been, for some time, shipping notebooks that don't have wired Ethernet connectors. More and more, businesses are facing the need for having a working and secure wireless network. Add to that, the need to restrict those colleagues who may be connected for a short time – and today's ISP provided wireless routers can't cut it. Just as Small Businesses may be looking to upgrade printing options, they may also look to a more robust wireless offering. Today, we take a look at the Ubiquiti's UniFi WiFi System – will it be a worthy upgrade for the cost?
(UniFi AP tested in this article) – Buy 3-Pack (Amazon – $179.59 US, UBNT.ca – $215.99 CAD)
The core of the WiFi System is the "Controller" software. This runs on a Windows or Mac machine (it's based on Java – so likely it would run on any machine), and it let's you control and administer the various options of the UniFi Access Points. The software and firmware upgrades are all available on the Ubiquti website. Once installed, you'll be administering the APs by way of a web interface. This interface is the "Controller" software needs to be installed on a machine located on the same network as the APs to administer them. In some cases, the Controller does not start because ports are open locally – be sure to be prepare for this if you plan to install the software on a server.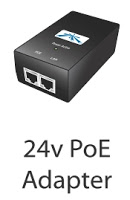 Each of the Access Points (APs) is simply plugged into your switch (if you use Power over Ethernet or POE) or into the supplied POE adaptor (shown at left). If using the adapter, you'll need two patch cables (not provided). One goes to your switch, and one to the AP. This adaptor passes through the required network data while also providing power to your connected AP. The adapter itself requires a place to plug into a power outlet – but, likely all of this cabling can stay in your server room.
Once plugged in and the Controller is running – you'll launch a web interface and the DHCP assigned APs are automatically detected. The wizard interface takes you through all the basic setup steps to get the APs loaded with the required settings. The slick (apparently simple) use of these devices is underscored by the power of it's functions. Each of the APs has a status led attached to the top of it that indicates it's current status.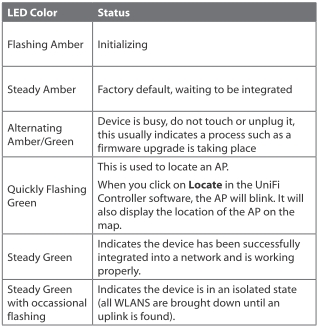 One of the nicest things about the UniFi WiFi System is the controller software itself. There are some fantastic options and features in this software that really make the WiFi system excel over others we've seen. Among the many useful features:
1. Creating a scale map of your building with a nice visual overview of coverage range. This feature allows you to upload your own image and place APs on a map for best usage. The map can be an uploaded image or a Google maps search (in our testing the Google Maps feature didn't work). This may not be perfect, especially in multi-floor scenarios, but we like the idea.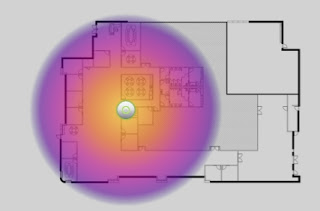 2. Statistics are updated from each device right out of the box. The provided details are actually pretty good and update automatically. This is great for those not looking to do all sorts of configuration, but want to know what's going on with each of the installed APs.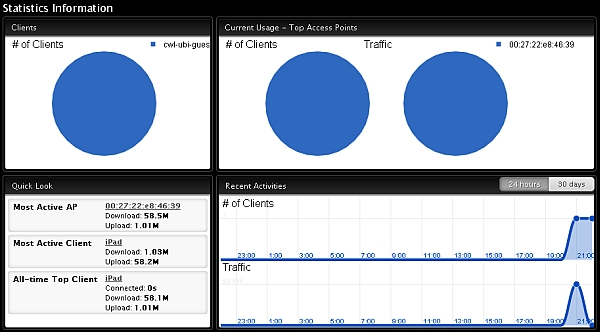 3. There is an attention to detail here that is nice. You can use the controller software to locate the devices (by causing an AP to flash). There are mounting plates to get the AP attached to a drop ceiling panel. And, things like taking an associated device and forcing it onto a specific AP give some real granularity to the process.
While we tested just the Unifi AP, there are a number of products offered that all under the umbrella of the UniFi system. It's interesting to wonder what might be possible by combining the indoor and outdoor versions of this product into one larger network structure.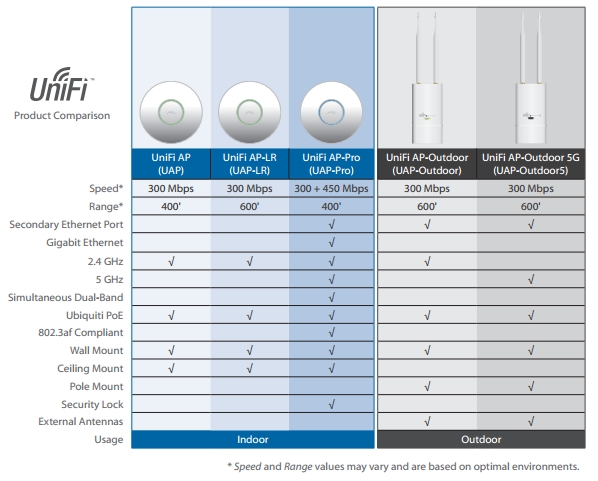 Is the UniFi system a worthy upgrade for your struggling wireless network? Yes. This is a great path if you're looking to take your home or office from the single wireless route to something more powerful and robust. More than ever, wireless devices are demanding access to data at higher speeds and the diversity of wireless clients is increasing rapidly. Ubiquiti offers a real solution to these challenges and, a very impressive one at that.
Pros
– All of the AP hardware can operate on DHCP IP Addresses, reducing configuration
– POE means only one cable connection is required per AP
– Firmware upgrades are done automatically from the controller and logged
– Lots of guest access options (by way of portal customization, using voucher codes and other various options). Guest tokens can be revoked
– Alerts can be sent by email to a configured server and email address
– Bandwidth can be throttled by group
– Supports uPNP device discovery on the WiFi network
– Boasting "Unlimited Scalability", the option of just adding more APs to improve the network is appealing and cost effective
Cons
– You'll need a computer to run the management station and controller software components, the APss do not include built-in web interfaces.
– The web controller interface won't run in IE 6, you'll need a newer version of your browser if on Windows
– Some of the web controller content isn't viewable in lower Windows resolutions
– Rather unfortunately named "Controller" software does not need to be running for the APs to operate. This is simply an administration tool (based on our testing).
– The software can run into conflicts if other server software is on the local machine