Most unusually, I missed Apple's most recent event. This was not because I didn't want to see it; It was more about being busy with other things. Sometimes it does feel like both events and work requirements are in constant competition and the Apple event usually wins. So, after I was able to take a closer look at this event, I thought I'd offer some thoughts about what's new and interesting from Apple.
iPad Air
The marquee announcement of the night. iPad Air, as the name implies, makes the iPad much lighter. In fact, if you remember the iPad 1's 1.5 pound heft, the Air's 1 pound will probably feel amazing. Again Apple updates much of the guts, including the iPhone 5s's A7 64 bit chip and perhaps more interesting, a slight reduction in size. I've not yet felt this new iPad, but I imagine regular iPad users will be moved when picking it up. I still think this size of the tablet is much too large, but it's still a nice upgrade – and the 16GB is still at $499 US.
Taking the name of Apple's popular line of Macbooks seems like a move ripe for confusion rather than differentiation. I have already encountered people that talk about "the Air" and aren't clear about what they mean.
iPad Mini
As a Mini user, I've been interested in a Retina version of this iPad, and now it's a reality. While most won't care about the A7 64-bit update, having the larger pixels per inch is probably what most people have been waiting for since the first generation mini was announced last year. This new version of Mini also comes in a 128GB model, though I wonder why so many pay such a high price for memory (when so much sits in the cloud anyway). This is Apple's best tablet, and now it appears better. Myself, I don't feel that the retina screen and various updates are enough to motivate a Mini upgrade.
Overall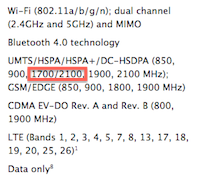 I really expected colours or perhaps even a fingerprint reader in the Mini, but alas, Apple is all about the very incremental updates. One of them, seemingly going unnoticed, is the iPad Air's cellular support for WIND Mobile and Mobilicity. That should be welcome news for those wishing for more options.
This year, Apple is on a clear mission to expand its product line. Previously, Apple sold one new iPhone and two older ones; Now, they sport two new options and an older one. With the iPad, Apple now has a newly named iPad, the iPad Mini, and an older option for each. With a full four currently sold models, Apple now has a whopping 20 different iPads you can buy.
Mavericks and the Free Fallacy
Yes, I consider this one of Apple's best marketing moves. By calling OS X Mavericks "Free", Apple seems to have convinced people that this operating system is no cost. If anyone doubts that Apple includes the cost of Mavericks in the price of Mac hardware – well, you need to lay off the kool-aid. I think Apple's operating system strategy is a wonderful way to approach systems, upgrades and migration. Windows can't touch this right now, and even though Mac hardware carries a high price tag, it appears worth it in today's highly attacked Windows world.
iWork becomes free
This is likely the more significant move by Apple. By making the applications in iWork [1] free to all new Mac users, Apple looks to have a complete suite of cloud-based tools that can work on mobile devices and over the web. This appears like a mixed bag, since the regular users of this suite have seen a loss of features, and new users might not really be interested in moving documents into Apple's cloud offering. If  Apple is after achieving a kind of consistency across all platforms, what will it cost them to do so?
Since having access to a beta and using these applications a few times, they don't have any particular heft to them. I can't imagine any business looking at these tools thinking they have to start using them now. This may be something Apple noticed and responded to. If its users consider iWork a novelty, why not make it free. I'd love to see Apple make a real effort to push into the enterprise space. Make a decent directory. Create a kick-ass Active Directory client. Promote the hell out of OS X's powerful disk and migration tools. It seems like a wasted opportunity.
---
1. This includes Pages, Keynote, Garageband, iPhoto, and Numbers