Reviewing the Apex Computer Stand From Sano Creative
Dubbed "The World's Best Laptop Stand", the Apex Stand arrived as a Kickstarter project. The stand was wildly successful, gaining $417,515 in pledges. I liked the idea immediately. Laptops are quite literally a pain in our necks, and this stand appeared to offer a way to make using them more ergonomic. So, in September of 2014, I backed the project. With its arrival on Feb 29th, the project was realized in a speedy 181 days.
Packed in a small, unassuming box, the Apex Stand required no assembly, it just has a few locking gears that allow the stand to unfurl. My version had a few scratches on it, but otherwise, the manufacturing appeared to go well. Being backer 1,350, they'd no doubt had the chance to work out the kinks.
Here are some stray observations:
1. You can't use this stand and also use your laptop's keyboard or trackpad. It is far too flimsy for that. Leaning your hand on the mounted computer is not going to end well. Instead, use a wired or Bluetooth keyboard and mouse. For the first few days, I had to stop myself from reaching out to my laptop's keyboard. It was like an automatic reflex to scroll with my trackpad or start typing. Every time I did that, I was reminded of my error with a shaking computer and a bit of a gasp. Needless to say, I was easily trained out of that impulse.
2. The look and style of the Apex Stand fit the Macbook well. It holds the 13″ and 15″ models with no major issues. Pay attention to the thickness of the bottom half of your laptop. Sometimes this doesn't fit perfectly. Once in the stand, the computer felt sturdy enough, if somewhat jiggly.
3.  The phone holder/mount was perhaps the biggest disappointment here. It was just wide enough to hold my iPhone 6s Plus without any sort of case. Add a case, and it doesn't fit. Given where your laptop will sit, the location of where the phone rests is likely to be obscured by the bottom of your computer. I found myself not using this feature at all and opting for an Apple cradle instead.
4.  The weight of anything USB or connected power adapters did nothing disrupt the balance of the stand. At no time did I feel like plugging things in my laptop's ports would pose a problem.
5. Some of the marketing materials reference the stand's portability; they even go so far as to show it being used in a coffee shop. Let me just say right now, there is no way you'll pull this thing out and use it in a coffee shop. With people walking around, tables wobbly, and often very limited real-estate – the Apex stand puts your laptop in more danger than you'd want in a public setting. Oh, and you'll look like a dork.
6. It might take you a few tries to get the stand exactly where you want it. Don't worry, it's ok to experiment. You'll find, ultimately though, that the stand only has a few places you can lock notches into. I would expect future generations of this stand to be far more versatile with several more locking positions.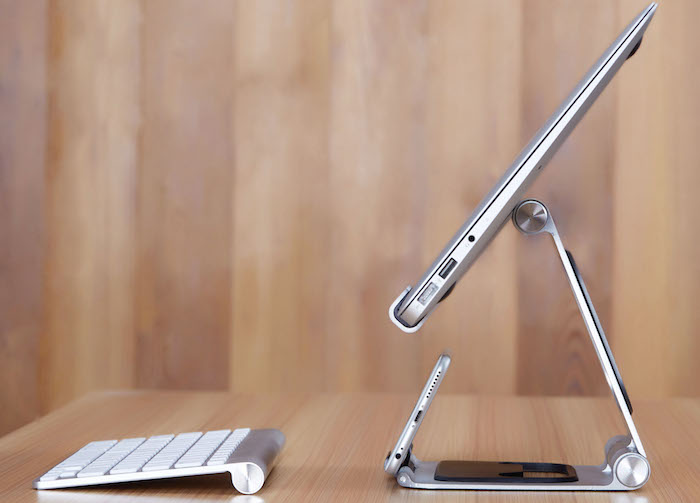 This is by no means perfect, but I recommend the Apex Stand. This product is only going to improve in future iterations, and this first shot at a product went very well [1]. If you're looking for a reasonably inexpensive laptop stand, you should check out the Apex.
The Apex Stand by Sano Design was a Kickstarter project. Sano does not appear to be offering the stand for public sale yet, but you can expect that once all the backer orders have been fulfilled.
---