Apple's September 7, 2016 iPhone 7 Event
I'm a big Apple product user. Currently, I regularly use a Macbook Pro for administration duties, a Magic Mouse v2, an Apple Wireless Keyboard, Apple Watch  1, and an iPhone 6s Plus. For the most part, I think these products are rock-solid and reliable (for what I do). Given this, every Apple announcement is generally met with a great interest for me, mainly because I'll probably be in there at 3am Eastern Time buying the next iPhone on Friday as many of you.
There were also a number of strange rumours this year about the iPhone 7. Would the new phone be the same size as the 6s? Would there be a blue version? Would Apple remove the headphone jack? Would this new phone be partially or fully waterproof? Today, we'd finally have these answers.
Apple Watch Series 2

Finally, Apple's Watch is "SwimProof", which means water-resistant to 50 meters. This will allow the watch to be worn in the shower and swimming and really anywhere. This might be, to my knowledge, the first waterproof product Apple has ever offered. If you used to have a watch you wear all the time, this watch has that potential (beyond the charging problem).
The built-in GPS on the watch is a welcome feature for workouts and such. This is such a no-brainer that the watch would have this kind of feature. Given the possibilities of offline navigation with a watch, this would really be useful for those who might not want to continually stare at their phone while going somewhere.
The ceramic case looks very cool and pretty. No word on the price of those things. The Apple Watch Nike Plus version looks a little less beautiful, though I suppose I could see the super-rich athletic-type sporting these as one of the 8 watches they own.
Pokemon Go on the Apple Watch was demoed, but sadly this game is dying, so I'm not sure how many people are excited about this. The watch interface is still kind of clunky, but it seems to be improving.
iPhone 7

There is a shiny "Jet Black" and a "Black" version. This looks beautiful. I think I'm going to get either the Black or the Jet Black this time around.
The home button may have lost most (or all) of its mechanical features. It will apparently support several haptic features providing feedback for simple and more complex operations. The button is powered by what Apple calls the "Taptic Engine". My hope is that Apple reinforces this thing more given how important it is to the overall experience.
Water and dust resistant to the IP67 certification standard. This isn't much (covering immersion in water to about 1 meter), but it's a continuous improvement in the phone that we know Apple is pushing towards. It was known that the 6s generation had some water protection, so having Apple publicly state more of this is a nice thing. Having this would have also avoided the demise of two of my previous iPhones. When will the phone become buoyant?
The Camera is probably the biggest set of advancements with this new phone. Apple seems to continually prioritize what these cameras can do, and while the megapixels don't rival other phones out there, the integration between software and hardware makes them the best of what you can get. Here we get a better colour spectrum, a larger aperture, 12 Megapixels, a faster sensor, stabilization, and even an API to shoot in RAW DNG for third-party apps. This is a huge step forward for photography and these phones. Also, the Facetime camera is 7 MegaPixel.

A telephoto lens is added to the iPhone 7 Plus camera to create an option to zoom to 2x naturally (and 10x by way of software help). This is that dual-lens look that you might have seen in many of the leaks – but it's only available on the iPhone 7 Plus. This also includes the ability to create some nice bokeh effects (also by way of software). Most of this is enabled through a software update later this year, so it's one to wait for. It remains to be seen if photographers will embrace these options.

The Retina Display is 25% brighter and the 3d touch is integrated. The "Wide Color Gamut" is better displayed on this device I would imagine. Instagram's demo started, and some of what they're doing to integrate this is pretty impressive. I look forward to seeing what apps like Pure and Camera Plus come up with.
Stereo Speakers (one on the bottom and one on top) should improve the audio experience over the old single speaker model. I think we're going to have to hear it to see how much better this is. Removing the audio jack probably enabled this to happen.
The Earpods, probably the most controversial change in this new phone, remove the analog jack and connect by way of the Lightning port. Without this analog port, this would render everyone's headphones useless; so Apple is going to include a Lightning to Analog adapter in the box. This inclusion is perhaps the most merciful inclusion I have ever seen  Apple do.
Wireless AirPods. I'm not sure I like the look of these things, or if I think they'll work well enough on phone calls. With 5 hours of listening time on a charge and 24 hours (with the use of a battery in the base charger), the battery life here sucks and is super clunky. I would skip this iteration of the product just for this reason alone. These things should go an entire day on a charge, until then, I'd skip it. As expected, the Internet is losing its collective shit over this. If they're embraced though, expect this to be what's included with the iPhone 7s. Expect these to cost $159 USD/$219 CDN.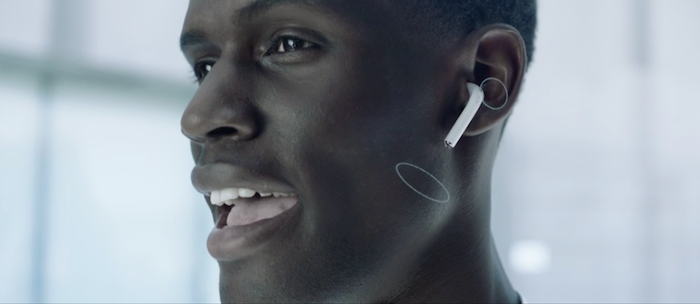 A bunch of Performance updates that show the phones are faster. The gains seem to be getting smaller, but they are there. The battery on the iPhone 7 will go another 2 hours, while the 7 Plus is only giving us roughly another hour. Not earth-shattering, but still good. Batteries remain a huge problem in smartphones.
Bluetooth looks like it will take a back seat to some sort of new Wireless communications-enabled via the W1 chip. This might be a sort of Bluetooth Low Energy thing, but the "Pair" appears to be a four-letter word to Apple.
Lastly, the phone's space limits are being upgraded. Even on the 6s. On all but the "SE" models, thee the 16GB sized iPhone will be ditched for at least 32GB. Let's hope all those running on the iPhone 6s with 16GB aren't burned during the upgrade process due to limited space. A bold move for Apple would have been to offer only one single 256MB model and keep that price point consistent, but they may be too drunk on profits afforded by memory increases.

The iPhone 7 Plus will start at $769 USD/$1049 CDN, and the iPhone 7 starts at $649 USD/$899 CDN. Pre Orders start Friday, September 9 at 12am Pacific, 3 AM Eastern with general availability September 16.
That's the full list of new products this time around. The iPhone 7 is sure to get all the spotlight, while the Apple Watch does include some worthy updates. I think I'm going to get the iPhone 7 Plus, what about you?