Fly Swoop's COVID-19 approach? Maintain a honeypot.
Imagine being lured into a website with promises of golden shores, beautiful sunsets and wonderful coastlines. There are convenient flights and an ultra-smooth booking process. But, the people running this site know they're getting your cash and once they have it, you'll never get it back.
Folks, the Swoop Airlines website is a honeypot. Right now, you can go to Swoop and book a flight (just like I did) to a place you can't currently go to. They'll take your money and I'm sure Newfoundland is still there as a booking destination. They aren't the only ones of course, with reports of Air Canada and others doing this; all with the backdrop of no teeth in consumer protections.
Holding back money for a flight as our country is racked by COVID-19 is unethical. We should support Canadian tourism. You take the money willingly and egregiously to cancel the flight the same day and proclaim that a refund is impossible. About the only thing more impossible with Swoop is actually contacting them – $15 for a phone call, are you serious?. All they need in the chat is the asshole emoji (is there one?).
My big mistake was not knowing the Newfoundland was closed to people out-of-province. I could have, and should have looked that up to avoid being ripped off like this, but in my jest, in a moment of happiness on my birthday, a flight was booked. My trust that the airline would have my back, in this case, was wrong. Once the realization set in, I felt like I had given my money to that kind of friend that happily takes the cash and skips town.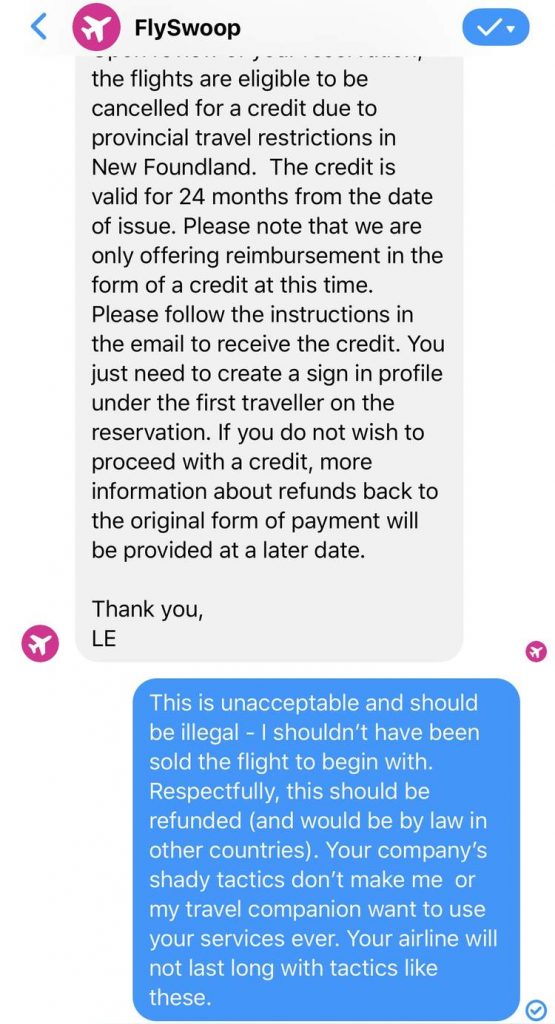 I'm holding a small sliver of hope for whatever that "later date" is, but rest assured Swoop is free to earn interest off the money they've taken. Since I now have zero trust in them, the money seems as good as gone.
This sort of abhorrent behaviour is not possible in the United States or Europe where, as I understand it, by law airlines are forced to refund (if the customer requests it). This is not the case in Canada, where Minister Marc Garneau seems to defend the airline's right to take customers' money with impunity.
Apparently the only respectable airline in Canada is Westjet. Let's remember that when all this is done and we return; I know I will. Swoop clearly doesn't realize how these disgusting tactics are going to backfire. It's a matter of respect for your customers, and airlines clearly have none.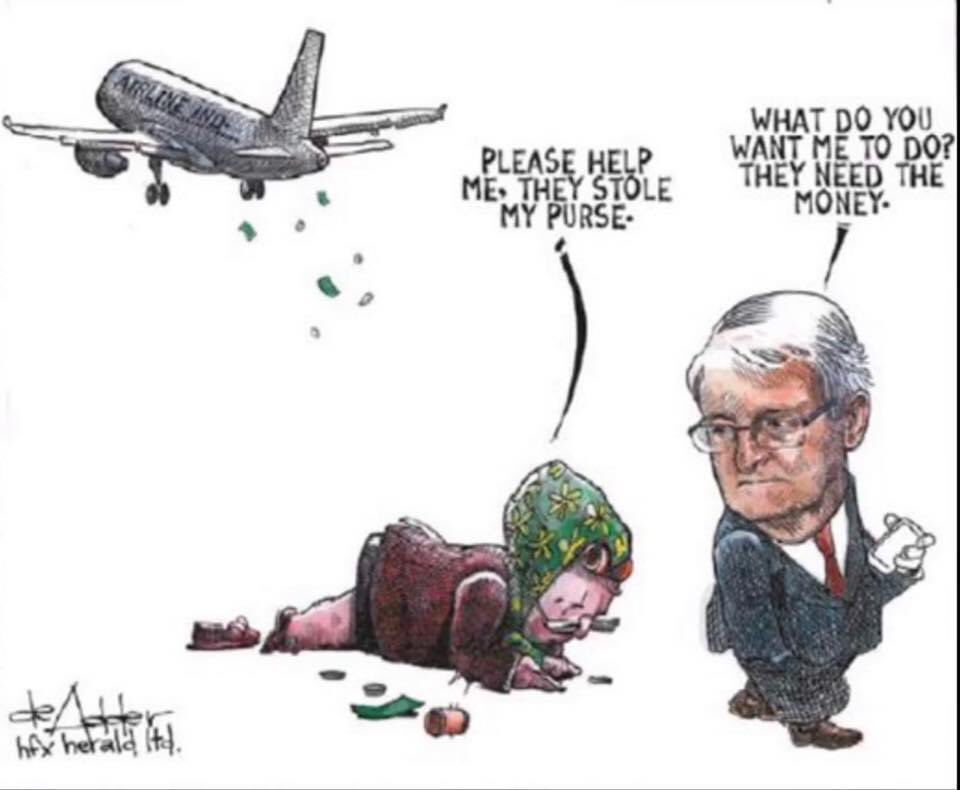 As it turns out, if you are in this situation with an airline, make it known with the #RefundPassengers hashtag on Twitter. Initiate a charge-back on your credit card. Demand that the government back you and not these shady companies. More than anything, don't forget the airline when it's time to fly again. Make it known with your wallet.