My iPhone 12 was Stolen in Downtown Toronto. Here's What Happened
Smartphones are devices that rule our lives. They now cost more than a mortgage payment to purchase. They hold everything important to us. They've become so fundamental to everything we do. When we lose one, it can feel like we've lost an appendage. This summer, I left my phone behind at a park and it was stolen. Here's a look at that journey, and what I learned.
It all started rather innocently. After visiting a Tim Hortons at Sherbourne and Richmond Streets in Toronto, I took my coffee to a small park area at 387 Richmond St East. Since there were some places to sit, I placed my phone and coffee on the bench. When finished, I took my garbage to a nearby bin and walked back home. What I had not realized is that my iPhone was still sitting on that bench and I wouldn't clue into it until getting all the way back home.
What followed was a set of escalating and frantic activities. I checked the couch, I checked my clothes. I checked my car. No phone. Once I'd exhausted every location, I turned to Apple's Find My tool to see if I had left it somewhere. 10 minutes had passed. The phone appeared to be at 387 Richmond St East, so immediately rushed down there – but no sign of it.

Now 20 minutes later, I thought I might have dropped the phone in the garbage. Being a container that the city locks, I wasn't able to just reach in and fish around. Given the prevalence of dog feces and possible used needles, it wouldn't have been safe. I called the City of Toronto and they sent a truck. Two men arrived in far less time than I expected to help open the enclosure and rummage through the bins. At one point they emptied the full bin onto the back of their truck, but no iPhone. Now, 45 minutes had passed.
This is when I returned to Find My Phone again. Astonishingly, the phone was moving. The app tracked it to Younge and Dundas in a Rogers store. Clearly, the phone had been stolen, so I placed it in "Lost Mode," a special operating mode that will delete important information and place a message on the screen providing info about returning the device. This operating mode presumes someone might help and counts as a step before full erasure of the device; something I was still hoping to avoid. Now, an hour later.
Next, I made my way closer while watching Find My Phone. The phone tracked from the Rogers store to the Eaton Centre, then landing on a small park just behind the mall. Meeting a friend there, I scanned the area while he provided me with a temporary phone to aid in the tracking (I had thus far been doing it with my laptop). One hour, thirty minutes since losing the phone.
This is where the iPhone trail ended. It seems likely the phone was shut off. Looking around the area people were milling around, a small tent encampment sat in the south corner and the park itself contained no sign of a phone cast away. My friend and I swept the park and garbage bins and bushes to no avail; the phone was gone. Two hours had passed.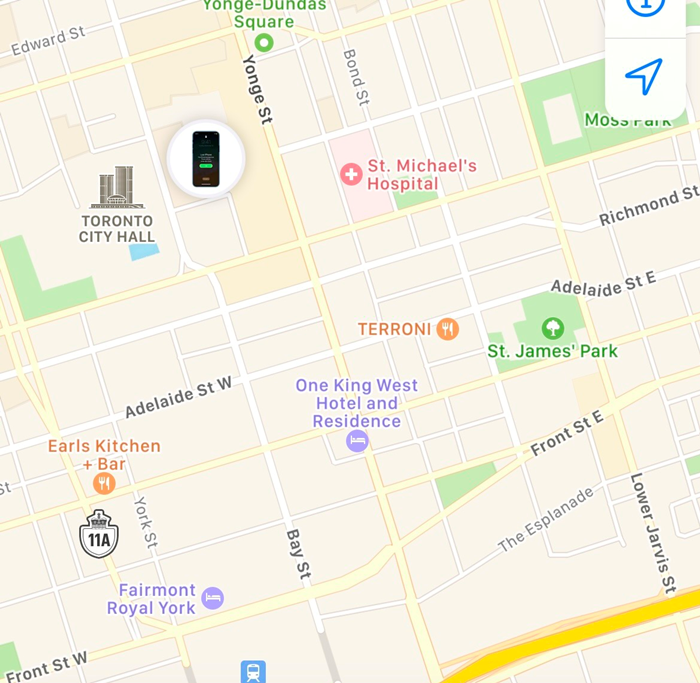 The intense feeling of losing something so valuable and important is similar to that of losing a wallet. Most of it can be replaced, but other things have such sentimental value that can't ever return (think: pictures). It was now time to lick my wounds and move on. The next step was to get to the Apple Store in the Eaton Centre and purchase a new and insanely expensive iPhone. I'd learn this day not to be so careless with my phone; even though I'm usually good about that.
But also I thought about what might have saved me from this pain. It would have been great to have enhanced tracking, even if they'd turned the phone off. Thankfully, it looks like Apple is working on that in the next version of iOS. A coming feature of Apple's Watch will alert you when your iPhone has been left behind. I immediately started looking into a watch (More about that in another article).
The only steps left were to set the phone to erase (the next time it turned on) and call Bell Canada to have them block the phone's unique International Mobile Equipment Identity (IMEI) code – a database of identifiers phone companies use to control the spread of stolen merchandise (think: a no-fly list for phones). This essentially makes the iPhone useless but for parts that can be sold off. If you happen to come across it, please do get in touch and I'll take it back, no questions asked. Here are the details of the iPhone:
iPhone 12 Pro Max - Pacific Blue, 128GB (Model MGCX3VC/A)
Serial Number: F2LDK2C50D4H
IMEI: 356719114596674 (Blacklisted Bell Jul 30, 2021)
While you're here, subscribe to my newsletter. You'll hear about any new Apple features that might protect your own iPhone.