Using an Unlocked Phone in Venezuela
Using an unlocked GSM cell phone. I've known this was possible for some time, but I had not really attempted to do it. When I recently purchased a Blackberry Bold smartphone unlocked, I planned to attempt local roaming of data instead of using Rogers for this purpose. A note: Getting an unlocked phone can be a bit daunting, if you have it unlocked by a third party or buy your phone used, make sure the unlocking process works (if you need to, have the seller do it in front of you) and also ensure you get the unlock code.
So, as I was about to travel, I took note of the pricing for roaming data from Rogers. Rogers will charge you (at the time of this article) a whopping $50 for 5mb of roaming data. If you do not pre-plan your data usage, you'll be charged at a rate of 3 cents a kb (more) or a whopping $30 a megabyte!
When I arrived in Margarita Island, Venezuela, I took a look at the different mobile phone providers, and which ones would handle a 3G connection. I found DIGITEL. The first thing to do was to find mall or a larger store from one of these companies (often, smaller stores won't sell SIM cards or may only sell hardware). I decided to go to the largest mall on the island: Sambil (map), located in Pampatar and check out DIGITEL.
At Sambil, I found a DIGITEL store. Since I'm not good with Spanish and they weren't so good with English – I managed to get across that I was after after a bit of help from a local person. I asked them for a SIM card and data use on my blackberry – hey, it worked. I was then directed to a larger DIGITEL store inside of the mall close to the food court.
At this larger store I had to wait for a teller, and the teller was good enough to help me purchase a SIM card and a data/voice package (I didn't intended to make calls) that would allow me 50mb of usage before I was the card would need to be re-loaded or would stop providing data. 50mb seemed like enough. I paid 80bv ($13.10 cdn per local exchange rates) for the package. I then promptly added the card to my Blackberry.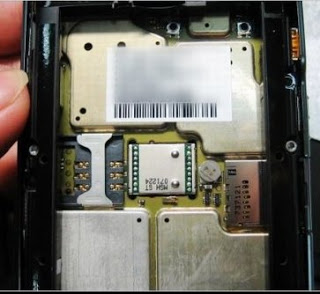 One thing to take note of: The Blackberry Bold does not have a latch mechanism for the removal of a SIM card – be aware the the SIM card needs to be pulled out of the slot (far left of image) manually.
Once the card was added, it looked to be working immediately. I did have to enter a pin code every time the Blackberry started or had been re-booted. I did not look into how this pin requirement might have been turned off (as it is with Rogers) – thought if I had more time I might have done that. I used a PIN of 0000 and made sure I had that written somewhere just in case.
The PIN was a bit of annoyance – and once in the Blackberry, my first test was browsing the net. I checked the Blackberry's built-in browser – it was working and I could browse pages. I also checked Bolt (an alternative browser I use) and I was also to browse web pages. The speed seemed slower than I was used to, but this was working well so far! Next, I checked how email was working.
This was where things got a bit tricky – and the way you use email may be different from myself. My account has always been setup to have an email address from (blackberry.net). This type of setup allows for forwarding from multiple email accounts directly to the blackberry. When I inserted the SIM card from DIGITEL, the email account that I was using previously with Rogers became inactive. no email was being sent or received. What I had to do was get to an email setup process on the Blackberry's built-in wizard or using the web browser. I went for the web browser and pulled up the registration page found at: http://digitel.blackberry.com. At that page you will need to use the "Create New Account" button and provide the phone's PIN and IMEI numbers (those numbers can be found on the "Help Me!" screen by pressing  ALT+SHIFT+H all at once). After the account was created, I then used the web browser to log in and setup forwarding of my various email accounts.
The key point of interest for me was going to be how much I would eventually use. I did not get a direct amount, but based on some basic tracking I did on the Blackberry (per session) – I would estimate my data usage in the 25mb range. Given that usage, my real costs from DIGITEL were $13.10 as opposed to $750.00 or more (without contract), and possibly as low as $50.00 (on contract) from Rogers.
When I landed in the Toronto airport I removed the DIGITEL SIM card and inserted my Rogers SIM card – the Blackberry booted, connected fine and allowed me to make a basic local phone call. To get my email account back online, I needed to log into the Rogers Blackberry Internet Service, http://rogers.blackberry.com/ and reactivate my phone using it's PIN code (see image, left). I logged in using the account that currently existed. Previously I would have expected to "Send Service Books", but this feature appears to have been discontinued.
So, there it is – this should give you an idea as to how to use your unlocked Blackberry smartphone in another country. Considering the kind of rates our local carriers demand for foreign data roaming – it's clear why they would want to roam your phone and keep you from saving money. Be smart, and save money.