Outlook PST Files Should Not Be So Difficult To Work With, Still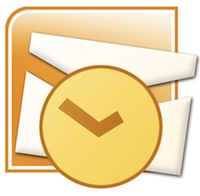 Oh Microsoft, in February of 2010 you released the (now legendary) piece of documentation called the "Outlook Personal Folders (.pst) File Format". In that you described the Personal Folders File format in glorious detail. Details that only a programmer or a Uber-Geek would love. When this came out I thought that we would usher in a new era of tools and interoperability on all platforms. We would see the end of all this hard-to-reach-data sitting in far flung PST files that most users wouldn't be able to access. See, I've written often about Outlook and PST files. I want to see a day that users could open up PST files on a Windows computer like they might open a text file. Well, sadly, that day is not here yet.
For those of you that may not know, the Outlook Personal Folders Table (.pst) is a database (with an extension of pst) that Microsoft Outlook uses to store mail messages, contact information and other details pertinent to Outlook. The PST file is capable of using folders to organize massive amounts of messages and attachments. Most Outlook users are doing this on a constant basis, managing folders, creating archives and generally manipulating the structure of PST files (yes, even Exchange users – at least the ones that archive locally).
The un-free Exchange of information
There was the Exchange problem. This is years past, but it still lingers for those administrators that used to make use of the wonderful ExMerge utility. ExMerge is a utility that allows you to export from an Exchange 2000/2003 Server mailbox directly into a single PST file. This was an amazing tool for the purpose fo decommissioning a user. Just run ExMerge, dump the user's mailbox, back it up and then delete the user. With the next versions of Exchange cam Powershell and the Export-Mailbox process (that required you run it from a non-Exchange Server). Hours of downloads and another computer later, you get a PST file. That was a mess and one step back for PST tools.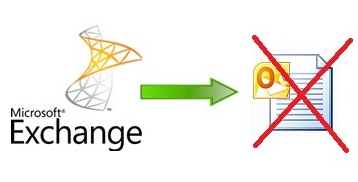 Not so, Mac
When we eventually got Microsoft Office 2011 for the Mac in October of 2010, it also included Outlook (presumably to replace Entourage). I didn't focus on the release that much, but I assumed that with Outlook would come PST support. Heck, even if the Office for Mac people weren't talking, they'd at least have had 8 months to download the publicly available specification and read it right? Well, in Outlook for the Mac we were given PST support only in the form of being able to import PST files.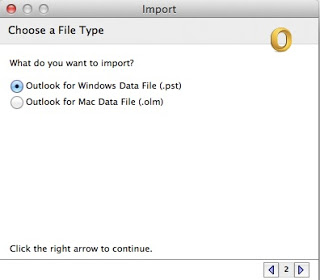 Really? That's the best you got?
I really was surprised to see that Outlook on the Mac didn't go the extra mile to support the full-fledged native use of a PST file like Outlook does.
Windows eight my mailbox
When I managed to get the new version of Windows 8 installed (beta, of course), I went looking for tools that would allow me to open, view, edit, mount or pretty much anything other than copy, move, or delete PST files. Nope, nothing. With something like this (and, really how Apple approaches drive images), you would think that Microsoft would allow user (with much of their data languishing in PST files) to open the files or mount them as a drive letter. Wouldn't that be amazing? The user simply  needs to mount the file like they might mount a (.dmg) file on OSX. Windows 8 isn't out yet, so it may still be possible that a utility is in the offing.
The Utilities Stepped Up Right?
Well, not so much. I expected to see lots of Open Source types of utilities that would create system drivers or interfaces for PST files. To think of a user having migrated to a cloud system and possibly chose to keep his/her massive archive.pst file local and readily accessible – what's possible right now? After doing a basis search, I did find a few free tools out there, but may of them require components of Outlook to be installed (I.E. Likely MAPI interface clients). There do appear to be some promising tools like the PST Data Structure View Tool, even though it doesn't allow you to actually view or work with data.
Also, recently Microsoft has released a tool to help with Outlook configuration issues too – the Outlook Configuration Analyzer Tool allows you to sort out some of the more common configuration and connection problems in a few steps.
The truth is, it's been very underwhelming to see how this has played out. I really expected this huge release of information by Microsoft to be something we'd look back on and thank them for it. As it is now, I don't think that much has changed. There are many millions of Outlook users out there that have countless gigabytes of data in PST that would greatly benefit from an OPen Source viewer treatment by someone. Give people ready access to this data or they'll eventually figure it out and use a system that is better, faster and stronger for searching, ahem. If you've come across something interesting in this regard, do share in the comments.